UH Parma Medical Center Wins National Award For Environmental Excellence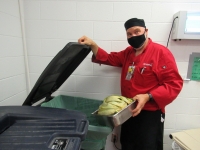 Even during a global pandemic, UH Parma Medical Center was among the top hospitals in the country honored for environmental excellence from Practice Greenhealth, the nation's leading organization dedicated to environmental sustainability in health care.
The Practice Greenhealth Environmental Excellence Award was presented to UH Parma Medical Center for exemplary efforts toward sustainability, encompassing aspects of waste stream management, food service, utility consumption, procurement practices, and greenhouse gas minimization. Food composting has been a notable recent addition to UH Parma Medical Center's sustainability initiatives. The Lean Path program facilitated composting across the system, preventing an average of 143 pounds of food per week from reaching a landfill.
These Environmental Excellence Award winners are among the top tier of 1,100 hospitals and health care organizations around the country. Winners range from large urban medical centers like UH Cleveland Medical Center to suburban community hospitals like UH Parma Medical Center and rural, critical-access hospitals. Each facility is addressing the link between the environment and human health, with data to detail its success. These health care institutions are committed to reducing the impact of climate change, avoiding chemicals of concern in purchasing and investing in energy-smart solutions.
Award-winning hospitals also are engaging staff to support sustainability efforts. Each year, members of UH Parma's Sustainability Committee fashion scarves and capes out of green recycling bags and red hazardous waste bags and don them for a Trashionista Tour of the hospital, alerting staff to the importance and cost of disposing of recycling and waste properly. In a fun and light-hearted manner, they educate staff on knowing where to throw items, distribute bins and bags, and award prizes for those who retain this important information.
"UH Parma Medical Center stands as a health care leader in its dedication to recycling and composting, choosing local and sustainable food options, reducing electricity and water usage and selecting green cleaning alternatives," says Jay Loughner, Manager of Food & Nutrition Services and long-time leader of the Sustainability Committee at UH Parma. "We are devoted to remaining at the forefront of sustainably practices in health care for the betterment of our organization and our planet."
CJ Sheppard
Senior Communications Strategist, University Hospitals Parma Medical Center
Read More on Parma General Hospital
Volume 13, Issue 9, Posted 3:49 PM, 09.01.2021