Senator Antonio Recognizes Importance Of Unions On Labor Day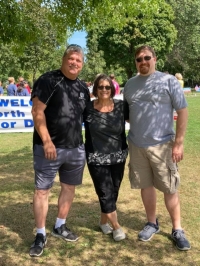 On September 4th, I joined North Shore AFL-CIO for their Labor Day Rally at Lakewood Park to speak on the importance of workers' rights and protecting our unions. We have all heard about the labor shortage right now, but the fact is that there isn't a labor shortage; there is a wage and workers' rights shortage. During the early days of the pandemic, we celebrated frontline and essential workers. We cheered, banged pots and pans, and called them heroes, but we still do not pay many of those workers a wage they can survive on.

At a time when our country should be pulling together, we are more divided than we have ever been. We have to find common ground and issues we can agree on, like improved worker safety, workers' rights and a higher minimum wage. Additionally, nearly 1.8 million women have left the workforce since the pandemic began and need support to return, such as expanded publicly-funded childcare, universal pre-K and paid family leave.

Labor Day is more than just a long weekend and an extra day we get off work. It is a day to celebrate the union workers who put their blood, sweat and tears into blazing a trail for generations to come. Unions were the driving force behind many of the workplace protections we have today, including the right to bargain, better wages, healthcare access, a 40-hour work week and weekends. Everyone in the workforce, whether in a union or not, benefits from these hard-won victories.

I am proud to stand with North Shore AFL-CIO this Labor Day and everyday as we work together to make sure that all workers are treated with the dignity they deserve.
Nickie Antonio
State Senator Nickie J. Antonio (D-Lakewood) is honored to be serving in the Ohio Senate, representing District 23, and in leadership as the Assistant Minority Leader. Antonio, who was elected to the Senate in 2018, previously spent eight years in the Ohio House of Representatives, where she served District 13 and was also a member of leadership. Antonio has served as a Lakewood City Councilmember, Executive Director of an outpatient drug and alcohol treatment program for women, Adjunct Professor and as a teacher for children with special needs.
Antonio serves as Highest Ranking Member on the Senate Health, Transportation, and Joint Medicaid Oversight Committees. She also serves on the Finance; Ways and Means; Workforce and Higher Education; Rules and Reference; and Joint Legislative Ethics Committees. Additionally, she is a member of the Ohio House Democratic Women's Caucus, previously as chair, and is the State Director for the National Women Legislators' Lobby.
She has been a dedicated champion of workers' rights, high-quality education, local governments, equal rights for women and the LGBT community, health care for all and fighting the opioid crisis.
Antonio is recognized as a leader who reaches across the aisle to get things done. As a result, she championed Ohio's historic adoption open records law (S.B. 23/H.B. 61) and step therapy reform law (S.B. 265/H.B. 72). Last General Assembly, Antonio passed legislation to abolish the shackling of pregnant inmates (S.B. 18/H.B. 1) and to require pharmacist education for dispensing life-saving naloxone (S.B. 59/H.B. 341). During her tenure in the Ohio legislature, Antonio has introduced the Ohio Fairness Act, which would provide civil rights protections for members of the LGBTQ community. She continues to work to remedy and end Ohio's use of the death penalty, as well as on an array of other bills focused on improving the lives of all Ohioans. Antonio continues to be an established expert in health policy in the General Assembly.
The first in her family to graduate from college, she holds both an MPA and a B.S. Ed. from Cleveland State University, and she was named a CSU Distinguished Alumni in 2013. She is also an alumnus and Bohnett Fellow of the Kennedy School Harvard Leadership Program (2011) and has been the recipient of numerous awards as legislator of the year from various organizations during her tenure.
Her daughters, Ariel and Stacey, have made Antonio and her wife, Jean Kosmac, very proud as the girls engage in their adult life journeys.
Read More on News
Volume 13, Issue 10, Posted 3:50 PM, 10.01.2021