Frosty's Fest Is Back!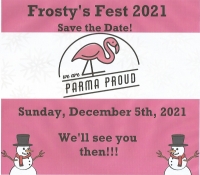 We Are Parma Proud proudly announces the return of Frosty's Fest 2021. Frosty's Fest will follow the Parma Christmas Parade on Sunday, December 5, 2021, at the Ridgewood Golf Course Clubhouse. Admission to this event is FREE. Many freebies and family oriented activities during this indoor and out event, as well as items for sale. The star is Santa, of course! S'mores, food trucks, bakery, face painting, children's crafts, holiday music, professional photos with Santa, and so much more! Follow We Are Parma Proud on Facebook for details and updates.
Kathryn Mabin
Board Secretary of Parma Area Fine Arts Council, Inc, or PAFAC, and Artist/Jewlery Designer, Owner Aire of Oppulence.
Read More on News
Volume 13, Issue 11, Posted 8:51 AM, 11.01.2021