Senator Antonio Recognizes National Domestic Violence Awareness Month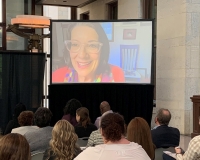 October is National Domestic Violence Awareness Month, and on October 5th, I was honored to be presented with the Ohio Domestic Violence Network's Croucher Family Award for Outstanding Leadership. The Ohio Domestic Violence Network (ODVN) created the Croucher Family Award to recognize Jim and Elsa Croucher of Monroe, Ohio who were trailblazers for domestic violence education in Ohio. The Crouchers became advocates after their youngest child, Tina, was tragically killed by an abusive ex-boyfriend. They founded Citizens against Domestic Violence in 1996 and created a Teen Dating Violence Prevention Program.

I want to thank both ODVN and the Croucher family from the bottom of my heart for the important advocacy they do on behalf of survivors of domestic violence in Ohio. More than a million women in the United States are physically assaulted by an intimate partner every year, and more than one in three women in the United States will experience domestic abuse in her lifetime. The increased isolation and closure of support services resulting from the Covid-19 pandemic have only made domestic violence situations more dangerous.

In past operating budgets, I have always advocated for additional dollars for domestic violence services, as well as the creation of the Domestic Violence Programs line item in 2019. In House Bill 110, the operating budget passed earlier this year, I successfully championed the inclusion of $7.5 million for domestic violence support services across Ohio, which will be used to sustain current programs and serve more survivors seeking help.
Additionally, over the years, I have worked on many pieces of legislation to protect victims of domestic violence, including Senate Bill 90, which would expand the offense of domestic violence to also prohibit strangulation and classify strangulation as a felony rather than a misdemeanor. SB 90 has had two hearings in the Senate Judiciary Committee and is awaiting further hearings. Another important piece of legislation I am working on is Senate Bill 198, which would end the statute of limitations on rape and sexual assault. SB 198 was referred to the Senate Judiciary Committee and is awaiting its first hearing.

This month and every month, I promise that I will never stop fighting to make sure every Ohioan is able to live safely without the threat of domestic violence in their homes.
If you or someone you know is experiencing domestic violence, the Ohio Domestic Violence Network is there to help. For more information on contacting ODVN, click here or call 1-800-934-9840.
Nickie Antonio
State Senator Nickie J. Antonio (D-Lakewood) is honored to be serving in the Ohio Senate, representing District 23, and in leadership as the Assistant Minority Leader. Antonio, who was elected to the Senate in 2018, previously spent eight years in the Ohio House of Representatives, where she served District 13 and was also a member of leadership. Antonio has served as a Lakewood City Councilmember, Executive Director of an outpatient drug and alcohol treatment program for women, Adjunct Professor and as a teacher for children with special needs.
Antonio serves as Highest Ranking Member on the Senate Health, Transportation, and Joint Medicaid Oversight Committees. She also serves on the Finance; Ways and Means; Workforce and Higher Education; Rules and Reference; and Joint Legislative Ethics Committees. Additionally, she is a member of the Ohio House Democratic Women's Caucus, previously as chair, and is the State Director for the National Women Legislators' Lobby.
She has been a dedicated champion of workers' rights, high-quality education, local governments, equal rights for women and the LGBT community, health care for all and fighting the opioid crisis.
Antonio is recognized as a leader who reaches across the aisle to get things done. As a result, she championed Ohio's historic adoption open records law (S.B. 23/H.B. 61) and step therapy reform law (S.B. 265/H.B. 72). Last General Assembly, Antonio passed legislation to abolish the shackling of pregnant inmates (S.B. 18/H.B. 1) and to require pharmacist education for dispensing life-saving naloxone (S.B. 59/H.B. 341). During her tenure in the Ohio legislature, Antonio has introduced the Ohio Fairness Act, which would provide civil rights protections for members of the LGBTQ community. She continues to work to remedy and end Ohio's use of the death penalty, as well as on an array of other bills focused on improving the lives of all Ohioans. Antonio continues to be an established expert in health policy in the General Assembly.
The first in her family to graduate from college, she holds both an MPA and a B.S. Ed. from Cleveland State University, and she was named a CSU Distinguished Alumni in 2013. She is also an alumnus and Bohnett Fellow of the Kennedy School Harvard Leadership Program (2011) and has been the recipient of numerous awards as legislator of the year from various organizations during her tenure.
Her daughters, Ariel and Stacey, have made Antonio and her wife, Jean Kosmac, very proud as the girls engage in their adult life journeys.
Read More on News
Volume 13, Issue 11, Posted 8:51 AM, 11.01.2021