Nurse Navigator Helps Prevent Hospital Readmission For Patients With CHF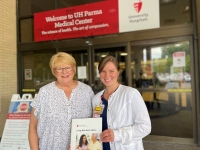 When two chronic conditions collided to land Christine Rand in the hospital, a special nurse navigator was waiting to guide her back to health – and keep her from returning. Just a month before her 69th birthday, Chris was exhausted, depleted of energy, winded and worn down. Feeling progressively worse, her legs were swollen and she noticed an alarming increase in shortness of breath. The daughter with whom she shares her third-floor walk-up condo in North Royalton called an ambulance. Chris was cheerful but concerned as she was wheeled into University Hospitals Parma Medical Center's Emergency Department, waving to caregivers. Her blood pressure was very high and paramedics had put her on oxygen. She was surprised to receive a double diagnosis: chronic obstructive pulmonary disease (COPD) and congestive heart failure (CHF). "All my vices had to go away," says the North Royalton retiree, a pack-a-day smoker for many years, who enjoys indulging in potato chips and an adult libation. "Son of a gun, it's a lot of adjustments to make."
Admitted to an inpatient floor, her mind swirling with this double whammy, she was comforted by the arrival of Elizabeth Prahst, BSN, RN, UH Parma's CHF Clinical Nurse Navigator. Initially funded in a pilot initiative by the Parma Hospital Health Care Foundation with COPD patients in 2017 and CHF patients in 2020, nurse navigators have been so successful at educating patients to avoid readmission that the role was made permanent. Elizabeth focused on educating Chris on her new diagnosis of CHF, explaining signs and symptoms, discussing the importance of following a low-sodium diet, limiting fluid intake and taking prescribed medications. The nurse navigator urged her patient to pay special attention to the following symptoms and notify her cardiologist of any of these warning signs:
Sudden weight gain of 3 pounds or more overnight
Swelling in the legs
Shortness of breath
Hospitalist Dallin Tonks, DO, who met with Chris, sees what a "huge bonus" Elizabeth's presence is to patients. "She genuinely cares about helping all of her heart failure patients," says Dr. Tonks. "In many instances, when I try to explain something relevant to a patient, I find Elizabeth has already taught them. I'm grateful she is around and our patients are lucky to have her here at the hospital."
Interventional Cardiologist Farshad Forouzandeh, MD, Medical Director of the Heart Failure Program for University Hospitals Harrington Heart & Vascular Institute at UH Parma Medical Center, sees a distinct improvement in quality of life for patients whose lives are touched by the nurse navigator. No one wants repeat visits to the hospital for a condition that may be managed at home with clear guidance. In fact, some insurance companies may not pay for a readmission less than 30 days after a hospitalization. With a generally older population at UH Parma, the clinical team was closely watching these readmissions and trying to prevent them. Three years ago, 23 percent of heart failure patients were readmitted to the hospital within 30 days. Now, the rate is 14 percent.
"Over the last couple of years with Elizabeth's dedication and the hard work of all of our team members in the Heart Failure group, we have witnessed a sharp decline in our readmissions," says Dr. Forouzandeh. "This team includes our great nurse manager on the cardiac floor, Melinda Lakatos, and our heart failure specialist, Dr. Ravi Ramani, who sees our challenging heart failure patients in his clinic at UH Parma." Elizabeth made sure Chris had a follow-up appointment with a cardiologist in the UH Harrington Heart & Vascular Institute scheduled before she left the hospital. She also called Chris soon after discharge and checks in periodically, to answer questions about reading nutrition labels for sodium content, incorporating more fresh fruits and vegetables into her diet, regular weight checks, and what to do if her feet swell, or she has trouble sleeping. "She's wonderful – calm, well-spoken, never makes you feel rushed," Chris says. "She gave me really helpful information about healthful eating in an exceptionally well-organized packet. While these ARE all things you should know, she did not make me feel stupid for any questions I had."
Elizabeth appreciates the opportunity to sit down and really connect with her patients, educating them on how to manage their symptoms at home and avoid readmission. "I love interacting with the patients and their family and getting to know them on a personal level while also giving them the tools they need so they can feel the best that they can at home," Elizabeth says. "It is the greatest feeling knowing that I am not only helping to reduce the hospital's CHF readmission rate, but I am also having an impact on improving my patients' quality of life."
CJ Sheppard
Senior Communications Strategist, University Hospitals Parma Medical Center
Read More on Parma General Hospital
Volume 13, Issue 12, Posted 7:49 AM, 12.01.2021