Good News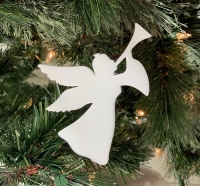 Good news from heaven the angels bring,
Glad tidings to the earth they sing:
To us this day a child is given,
To crown us with the joy of heaven. Luke 2:1-18
Tis' the season we celebrate Heaven's Good News and welcome in a New Year, a better year. A year filled with hope and faith which will return our lives to some normalcy as before Covid and her pandemic offspring Delta and Omicron.
In the days of Jesus' birth, there were great divisions among the people, much like today. Divisions over taxation, religious practices, violence and death, shortages of food, loss of shelter, and fearful isolation of those with leprosy ruled the masses. Sound a little familiar? Heavy under the weight of oppressive divisions, we question, "Where is my faith for a better new year in all of this? How do I offer my best during these troubling times?" When we hear, "I have Good News" we hope it is true. We want it to be true. We need it to be true!
The Good News announcing the birth of Jesus began a new day of hope for the oppressed. The Good News of the birth of Jesus taught us the importance of allowing the Gospel light shine in our lives, bright with hope and anticipation. We were taught to be a light which dispels the darkness, to become better versions of ourselves regardless of the many conflicts, great losses or heart rendering grief we endure. Whether we believe in Jesus, or not, when we serve others as Jesus taught, His Good News is broadcast to the oppressed. Christ's Good News shines through us when we choose to live our lives gloriously and choose to treat others kindly in today's trembling world.
What would Jesus wish for us this Christmas and for this New Year? Perhaps He would say to let each of us put in his share of loving kindness, humble encouragement, and out-stretched hands of tolerance. These are the shining gifts which make peace on earth. Wishing you and yours these shining gifts for the New Year ahead.
Happy and Blessed New Year 2022!

Susan Banks - Yurik
I am a Parma resident. Attended Thoreau Park Elementary, Pleasant Valley Jr. High, Valley Forge Senior High, Parma Senior High, and Tri-C. I am retired; have been published in Guideposts, Mysterious Ways and Angels On Earth. I also create Iconographic style drawings ~ Prama Artspace Gallery. My son was a Navy Nuke, my daughter was Miss Parma, and runner up to Miss Ohio. Three generations of our family attended Thoreau Park Elementary School, Schaaf Jr. High School and Parma High School. I love living in Parma, and I especially enjoy the city's unique European ethnicity. Visit my blog at angelssignsmiracles.blogspot.com ~ Nani's Got The Tea ~ please feel free to post a note to: galpublished@gmail.com.
Many Blessings ~ Susan
Read More on Opinion
Volume 14, Issue 1, Posted 1:06 PM, 01.03.2022