Itís Time To Establish A Writing Community In Parma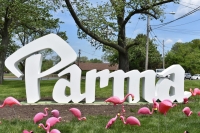 Over fifty years have passed since Shock Theater ended. The program's cancellation ended Ernie Anderson's wig-loving Ghoulardi caricature, who at the time was a famous, over-the-top late-night performer who helped solidify Parma's image as a town populated by polka-lovin', high-socks-wearin' working class people obsessed with pink flamingo lawn ornaments.
The Parma identity has shifted somewhat but we still love our flamingos. The Parma high school girl's rugby team named themselves the Parma Pink Flamingos, and Polish Village started Flamingo Fever as recently as 2013, an event spearheaded by local businesses to auction off flamingos and feature the pink plastic birds decorated by local artists. It's clear that regardless of how its younger generations shift Parma culturally that the pink flamingo will remain ingrained within the community's DNA.
I am part of that shift. A few weeks ago, Tim DeGeeter and Parma's city council established a poet laureate position for the city. I am honored to be the first to hold this position. What does the poet laureate do? Put simply, the laureate is a poetry advocate. They promote local writers, create events, and give the community stuff to celebrate. And I know we have a large cache of writers to recognize, our city simply lacks the infrastructure to properly manage Parma's creative assets. In 2015 I started the West Side Poetry Workshop through the Parma library, and during that time I've learned that our city harbors heaps of untapped talent who are disconnected, waiting to be coalesced into a creative community.
My first order of business was to create the foundation for that infrastructure. That is why I created the Flamingo Writers Guild. Yes, it's little ridiculous, it's meant to be! Parma's flamingos began as a tongue in cheek that were elevated to a point of pride. Parma's pride. And I'd like to help further elevate that pride.
So, if you are interested in joining a local writing community, attend events, or simply swell our numbers, please join the Flamingo Writers Guild on Facebook! Some efforts will be specifically tailored—for instance I am working with the Parma Senior Center to bring biweekly poetry classes to its members starting in February—but we will offer plenty of regular events for writing enthusiasts and supporters. I invite you to join us to witness and participate in all our community has to offer. As the saying goes, birds of a feather…
Jeremy Jusek
Jeremy is the city of Parma's first poet laureate and the author of We Grow Tomatoes in Tiny Towns (2019). He is the founder and host of Poetry Spotlight, the Ohio Poetry Association's podcast, as well as the West Side Poetry Workshop. He is also the philanthropy chair for the local nonprofit Young Professionals of Parma. To learn more, please visit jeremyjusek.com.
Read More on Opinion
Volume 14, Issue 1, Posted 1:06 PM, 01.03.2022