New Year Resolutions Can Be Hazardous To Your Health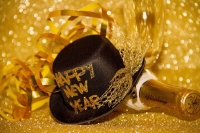 I am quite sure that most of us are optimistically looking at 2022 as being a good year. One in which we are not inundated with news items about covid 19, vaccinations and quarantines. A year where we can go to restaurants and visit family, enjoy party gatherings and sporting events, or visit a friend or relative in a hospital or nursing home without any fears. The impact of covid over the past two years has certainly altered our lifestyles and enhanced our awareness of health issues. There is one health issue that has taken a toll known as the silent killer…….Stress !
Many people suffer from stress unknowingly. Many health conditions are related to being overly stressed, including heart attacks and strokes which can be fatal. The Holidays are a time of year that stress becomes more prominent, then add to that the worries of Covid. It is also the time of year when people add to their stress levels by making unreasonable New Year's Resolutions
Back in the mid 80's when I was on tour giving personal development and motivational seminars and workshops to small business owners and entrepreneurs, one of the subjects on my seminar agenda seemed to always catch the attention and skepticism of the attendees. It was a segment topic titled "Goal setting can be hazardous to your health." Setting a New Year's resolution is the same as setting a "goal."
Although New Year resolutions are great in theory and can be healthy when they are realistic, we often tend to jump into setting a goal without giving it much thought. When the goal is not reached by the end of the year, we feel as though we have failed. By setting goals for their New Year's resolutions that are neither realistic nor reasonable, we inevitably fail which can be damaging to mental health, causing anxiety, stress, depression, or low self-esteem. It has also been known to lead to suicides.
When setting your resolution, (goal) be honest with yourself. Ask yourself, is this something that is really within my ability to accomplish. If you have a lofty goal that you realize you may not be able to accomplish this year, consider breaking it down into smaller goals.
Example: If your goal is to lose one hundred pounds this year, you might want to consider rethinking and shooting for 20 or 30 pounds, if you hit that goal you would feel like a "winner", feel good about yourself, and would want to start making plans to lose the other 60 or 70 pounds. But if you keep it at one hundred pounds, and you fail to reach it, you will feel yourself to be a loser, thus creating stress and anxiety and lowering your self-esteem. The fact is that you are not a loser, you just set your sites too high and made an unreasonable resolution. Set your resolution just hard enough to give you the challenge, but easy enough that you have a realistic chance of reaching your objective….Have happy, safe and Healthy 2022…
Tony Kessler
Executive committee member of "We Are Parma Proud"
Past Commander of American Legion Post 572
Read More on Opinion
Volume 14, Issue 1, Posted 1:06 PM, 01.03.2022