Olmsted Township Fire Department Recognized In Inaugural Cox Business First Responder Campaign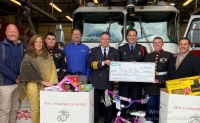 Cox Business announced today that the Olmsted Township Fire Department was nominated by members of the community as one of the most revered fire departments in greater Cleveland as part of the company's first-ever campaign dedicated to recognizing the efforts of local first responders.
The fire department was recognized with a catered Thanksgiving luncheon and a $500 donation in the station's name that was shared between the Marine Corps Reserves' Toys for Tots program and the Christians in Action organization. The campaign, organized by Cox Business, sought to highlight the efforts of first responders who keep residents safe and took on new responsibilities over the past year in response to the COVID-19 pandemic.
"Olmsted Falls enjoys a long history of firefighters who strive every day to keep residents safe, and we are fortunate in that all of our first responders – police, fire, and EMS – work tirelessly to put the needs of our community first," said Donna Winter, executive director of the Olmsted Community Center, who submitted the nomination. "We are proud to partner with Cox Business in recognizing the great work our fire department does day in and day out, along with the vital role of community partners like Toys for Tots and Christians in Action."
The initiative saw tremendous response from the community, with Cox Business ultimately recognizing fire stations and EMS facilities across its Northeast footprint, which includes Connecticut, Ohio, and Rhode Island. The nominations highlighted the tremendous personal sacrifice first responders already make every day, and how those responsibilities grew throughout the pandemic and with vaccination efforts.
"The inaugural Cox Business first responder campaign captures perfectly how members of the community feel about the impact local police and fire personnel make on a daily basis," said Robert Brill, market vice president, Cox Communications. "The members of the Olmsted Falls Fire Department have our admiration and respect, and we hope this recognition helps to express a token of the gratitude we have for their dedication."
About Cox Communications
Cox Communications is committed to creating meaningful moments of human connection through broadband applications and services. The largest private telecom company in America, we proudly serve nearly seven million homes and businesses across 18 states. We're dedicated to empowering others to build a better future and celebrate diverse products, people, suppliers, communities and the characteristics that makes each one unique. Cox Communications is the largest division of Cox Enterprises, a family-owned business founded in 1898 by Governor James M. Cox.
About Cox Business
The commercial division of Cox Communications, Cox Business provides voice, data, security, networking and video services for more than 355,000 small and regional businesses nationwide, including health care providers; K−12 and higher education; financial institutions; and federal, state and local government organizations. The organization also serves most of the top-tier wireless and wireline telecommunications carriers in the U.S. through its wholesale division. For more information, please visit www.coxbusiness.com.
Jeff Lavery
Jeff Lavery is the public relations manager for Cox Communications in the northeast.
Read More on News
Volume 14, Issue 1, Posted 1:06 PM, 01.03.2022