Virtual CASA Informational Session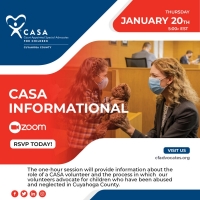 Child and Family Advocates of Cuyahoga County invite you to become an advocate for abused and neglected children.
What is a CASA volunteer? A Court Appointed Special Advocate is a trained community volunteer appointed by the Juvenile Court to represent the best interests of an abused or neglected child. This one-hour session will provide information about the role of a Court Appointed Special Advocate (CASA) volunteer and the process in which our volunteers advocate for children who have been abused or neglected in Cuyahoga County. Join us to learn what it means to be a CASA volunteer in our community.
CASA volunteers:
Are at least 21 years old
Pass a background check
Participate in pre-service training
Make a two-year time commitment (10-12 hours monthly)
Communicate effectively orally and in writing
Investigate, advocate, facilitate, and monitor
This session will be held virtually via Zoom on Thursday, January 20, 2022, from 5:00 - 6:00 pm. The Zoom link will be provided to those individuals who RSVP. Please RSVP to Hannah Wiltshire, CASA Program Director, at hwiltshire@cfadvocates.org.
We hope to see you there!
Hannah Wiltshire
Hannah Wiltshire is the CASA Program Director. CASA of Cuyahoga County is a program of Child and Family Advocates of Cuyahoga County (CFACC). Court Appointed Special Advocates (CASA) of Cuyahoga County provides qualified, trained, and supervised community volunteers to advocate for the best interests of children at risk for abuse, neglect, and dependency who are involved with the Juvenile Court, in collaboration with key agencies and significant individuals in their lives.
Read More on News
Volume 14, Issue 1, Posted 1:06 PM, 01.03.2022