Check Out Parma's Monthly Reading Series, 'Mingle With The Flamingos!'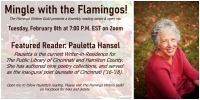 Parma's writing group—the Flamingo Writers Guild—is proud to announce the 'Mingle with the Flamingos' reading series! This monthly event features a new seasoned author each month who will begin the event by reading from their work, followed by an open mic that's open to the public.
This month the guest reader is Pauletta Hansel, the author of nine books which includes her most recent collection Heartbreak Tree. She's also the Writer-in-Residence for the Public Library of Cincinnati and Hamilton County, as well as Cincinnati inaugural poet laureate. She's a fantastic speaker and a veteran writer, definitely a reader you won't want to miss!
Everyone in the community is invited to join, which is being held tonight at 7 PM. Mingle with the Flamingos takes place the second Tuesday of every month and will continue to be held online. You can sign up by visiting the Flamingo Writers Guild Facebook page, or through our website at flamingowriters.weebly.com. Also on our website is a newsletter signup, which will help you stay up-to-date on new literary events in the city, as well as news and publishing opportunities.
Jeremy Jusek
Jeremy is the city of Parma's inaugural poet laureate and the author of We Grow Tomatoes in Tiny Towns (2019). He founded the Flamingo Writers Guild, a literacy group aimed at connecting and promoting Parma area writers. He is the founder and host of Poetry Spotlight, the Ohio Poetry Association's podcast, as well as the West Side Poetry Workshop. He is also the philanthropy chair for the local nonprofit Young Professionals of Parma. To learn more, please visit jeremyjusek.com.
Read More on Opinion
Volume 14, Issue 3, Posted 11:13 AM, 02.08.2022