UH Parma Medical Center, Parma Fire Department Support St. Anthony's After Arson Fire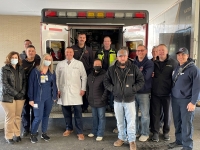 Generosity overflowed from the community at the March 2 Stuff the Squad event at UH Parma Medical Center, a collaboration with the Parma Fire Department to collect donations for the grade school at Saint Anthony of Padua. The State Road school sustained $1 million damage in a Feb. 19 fire that was ruled arson.
On Ash Wednesday, the start of the Lenten season, a constant procession of vehicles throughout the day delivered donations of school and cleaning supplies to the ambulance, which was parked under the surgery addition in front of the hospital. Volunteers from the fire department and hospital filled one reserve ambulance, as well as a 16-foot truck and a second one provided by Paul Davis Restoration, the company handling the work at St. Anthony's. Students had been relocated to St. Bridget's, a former parochial school in Parma.
"We were touched by the generosity of the community," said Mary Beth Talerico, Manager of Business Development, who leads many of the hospital's community outreach efforts. "From brand new vacuums and monetary donations, to school supplies from retired teachers, we fully filled one squad, a 16-foot box truck and another truck two-thirds full."
Christopher Dussel, MD, Chief Medical Officer of UH Parma and Medical Director of Emergency Medical Services, including the Parma Fire Department, said these types of initiatives show the strength of a community hospital. He was impressed by the steady stream of donors throughout the day. The collaboration came together quickly, as Parma Fire and UH Parma work together regularly and well.
"As Parma's community hospital, our hearts go out to our friends and neighbors at Saint Anthony's," Dr. Dussel said. "We were proud to partner with Parma Fire in an effort to support the school through this tragedy."
CJ Sheppard
Senior Communications Strategist, University Hospitals Parma Medical Center
Read More on Parma General Hospital
Volume 14, Issue 4, Posted 9:05 AM, 04.01.2022