University Hospitals And Sodexo Reduce Food Waste Through WasteWatch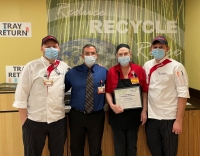 University Hospitals has prevented more than 223,000 pounds of food waste, conserved nearly 2.5 million bathtubs of water and saved over 186,000 meals since implementing a new program 18 months ago to reduce food waste.
Fighting the global crises of climate change and hunger is part of the mission of Sodexo – the company that provides food service to UH – as they seek to improve the quality of life in the communities they serve around the world. Sodexo is championing these efforts to reduce the amount of food that goes to waste, implementing WasteWatch as part of daily operations at every food service location across the 23-hospital UH System.
Using WasteWatch, Sodexo site teams can rapidly and easily capture food waste data, take action based upon intuitive analytics, and drive behavioral change to help end avoidable food waste.
"If food waste was its own country, it would rank as the third largest greenhouse gas emitter on the planet," said Ryan Hamel, CEC, CCA, one of the Sodexo chefs supporting the UH System. "By utilizing this tool, Sodexo and UH are showing our commitment to improving the well-being of those we serve. The WasteWatch program is helping us reduce our carbon emissions and champion sustainability."
Employees log into the WasteWatch program to weigh food waste such as fruit and vegetable trimmings and unusable leftovers. The software tracks the transactions and highlights their financial and environmental impact.
"We analyze the data, educate and retrain staff, and adjust the amount of food we prepare," said UH's Culinary Director Anthony Verona, CEC, CCA.
For example, UH Cleveland Medical Center focused on tracking all vegetable leftovers in the cafeteria for the first two weeks of February. LeanPath results allowed the team to review that information, zero in on a specific target, and make adjustments that led to a decrease in vegetable waste for the second half of the month.
UH recently ramped up its use of WasteWatch through a month-long competition called Goalympics. Sodexo locations across the nation competed in several categories aimed at engaging staff and increasing participation. During the month, UH kitchens prevented more than 15,000 pounds of food from being wasted, more than doubling its efforts from the same period a year earlier.
UH employees were celebrated for the number of transactions they recorded. Cindy Wheatley of UH Parma Medical Center was among the top participants in the competition for UH.
"When collectively your team is working together, it's great energy," said Jay Loughner, UH Parma's director of food service. "Goalympics has been a high-engagement activity, and it's helped us tailor our production to our demand."
CJ Sheppard
Senior Communications Strategist, University Hospitals Parma Medical Center
Read More on Parma General Hospital
Volume 14, Issue 5, Posted 3:06 AM, 05.02.2022