UH Parma Nurse Practitioner Travels To Ukraine With Aid From A Generous Community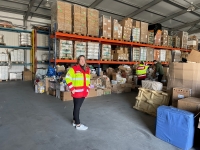 Alla Trokhimenko immigrated from Ukraine 18 years ago, eight months pregnant, with her husband and two young children. She brought with her a passion for helping others and a determination to become a nurse. The obstacles, though daunting without fluency in English or computers, were less insurmountable here than in her native country.
"My first days were troubling, as I knew no English, had never before used a computer, and was then pregnant with my fourth child," said Alla, who persevered to gain familiarity with the language and tools of her new country. She ventually received her associate's degree from Cuyahoga Community College and continued on to obtain bachelor's and master's degrees from Chamberlain University.
Now a nurse practitioner on the cardiac care stepdown unit, Alla has worked at University Hospitals Parma Medical Center for more than nine years. When war broke out in Ukraine, she knew she had to do something to help her home country.
Alla traveled to Ukraine with her husband and seven others from her church, Slavic Full Gospel Church in Broadview Heights, in late April. After holding a fundraiser and organizing, they managed to bring with them 105 bags of medical supplies and humanitarian aid – including four handheld pulse oximeters from UH Parma and medication samples, wound care supplies and burn creams from several physicians she works with at UH Parma. A member of her church donated insulin from a late loved one. The group alsobought tourniquets, first aid supplies and bulletproof vests for the volunteers taking treacherous trips to war zones to deliver necessary supplies.
MedWish International – a non-profit humanitarian aid organization started by UH Urology Institute Chairman Lee Ponsky, MD to distribute discarded medical supplies to countries in need – gave them 350 pounds of medical supplies.
When the group arrived in Ukraine, they were stationed at a warehouse that receives medical supplies, medicine, food and other aid from the United States and European countries. As the only volunteer in her group with medical training, Alla's job was to translate and show Ukrainians how to assemble wound vacs, chest tubes, central line kits and cannulas. She also explained the use of different medicines, creams, CPAP and BiPAP masks, suture kits and wound dressings.
The group had the opportunity to visit refugee camps and hear stories of people fleeing occupied cities. Many suffered without food and water for a long time. Alla and her husband visited relatives they had not seen in years. And they were struck by how different Ukraine is now, with checkpoints in cities and soldiers questioning each person's purpose.
"Ukraine was my first home, and to see this devastating war happening, I knew I had to do something to help," said Alla. "Everyone was quick to support me. People at this hospital are diverse, from many different walks of life, and for them to all come together to support my home country is overwhelming.
Chief Medical Officer Christopher Dussel, MD, said he was pleased – but not at all surprised – that Alla's fellow nurse practitioners pitched in to cover her patients while she was away and so many physicians and other caregivers offered their support.
"We at UH Parma were happy to support Alla on this important mission," said Dr. Dussel, who oversees dozens of advanced practice providers at UH Parma. "We are blessed to be part of such a generous UH family."
CJ Sheppard
Senior Communications Strategist, University Hospitals Parma Medical Center
Read More on Parma General Hospital
Volume 14, Issue 6, Posted 8:17 AM, 06.02.2022