Save The Date For Frosty's Fest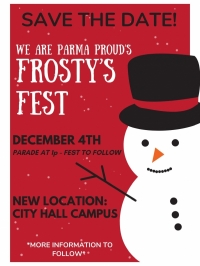 Frosty's Fest is back, and this year, it will be bigger, better, and at a new location.
Frosty's Fest is brought to you by the non-profit We Are Parma Proud. This family-oriented event occurs directly after the Parma Christmas Parade on Sunday, December 4th. The parade starts at 1:00 PM near Stearns Farm on Ridge Road and travels north down Ridge to Parma City Hall Commons.
Frosty's Fest begins when Santa arrives at the Donna Smallwood Activity Center (7001 W Ridgewood Drive) at approximately 1:30 PM. Admission is free. There will be free photos with Santa, and Santa and his elves will pass out free stuffed animals to the kids who visit him. Indoors, the Parma Commission On Aging will be providing food and beverages. There will also be free "make-it, take-it home" craft ornaments for the kids. A few Disney Princesses will be on hand to greet the kids and entertain them, too, and so will a face-painter and a balloon twister. Added this year, there will be a handmade arts & craft show for those unique, last-minute gifts, and fresh bakery from local bakers. We Are Parma Proud will be selling their awesome Parma Proud merchandise, they'll have a large raffle basket, and a 50/50, split the pot drawing, which helps to fund events like this throughout the year.
Outside the center, watch for an ice sculptor demonstration, three food trucks, free S'mores with the Parma Firemen, and more.
Follow We Are Parma Proud on Facebook and Instagram for updates. Save the date, bring your friends and family, and come celebrate the holidays the Parma Proud way.
Kathryn Mabin
Board Secretary of Parma Area Fine Arts Council, Inc, or PAFAC, and Artist/Jewlery Designer, Owner Aire of Oppulence.
Read More on News
Volume 14, Issue 11, Posted 8:51 AM, 11.01.2022