Northeast Ohio SPCA's Wellness Clinic Is Once Again Open For Business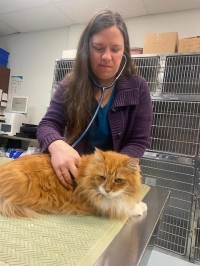 We are delighted to share that the Northeast Ohio SPCA Wellness Clinic located at 9691 Brookpark Rd. is once again open to the public. The clinic was initially closed back in March of 2020 when the pandemic struck, and we were left without a veterinarian.
As a matter of fact, a lot of veterinarians left the field when Covid-19 became a world-wide threat. Many vets that were able to retire did so, while others chose to stay home with their children because childcare and schooling became a major concern.
Those that stayed in the field quickly experienced burn-out and exhaustion from being short-staffed and extremely overworked. The vets that remained tried to take on as many patients as possible because there were few, if any, other options for pet care.
Fortunately, the field seems to be recovering and we now have a wonderful new vet overseeing our Wellness Clinic and we expect to hire additional veterinarians in the coming months. Currently, our clinic is open for walk-ins Monday – Friday 11am – 4pm. If you would like to schedule a spay/neuter surgery or a dental surgery, please call us at (216) 635-2718. For more information on the services we provide, please visit us at https://northeastohiospca.org/wellness-clinic.
Stefanie Merkosky
Stefanie Merkosky - Development & Communications Director at Northeast Ohio SPCA
Read More on News
Volume 14, Issue 12, Posted 10:57 AM, 12.01.2022