Ready Notify Keeps Parma Residents Informed About Emergencies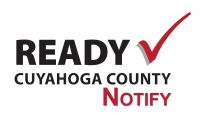 During the winter when Northeast Ohio is slammed with severe snowstorms, the Parma's Safety Department notifies residents who are registered with Cuyahoga County's Ready Notify CodeRed service about parking bans. Those notices are also posted on the City of Parma's Facebook page. The city uses these communications tools to reach a large audience quickly and easily about emergencies and other important information.
Although the city has communicated to residents in the past about how to register for CodeRed alerts, there are still many people not taking advantage of this free service. This is the fastest way to get emergency alerts, and residents are encouraged to sign up for this valuable service.
How to Enroll
Visit ready.cuyahogacounty.us/en-us/readynotify. A valid email and phone number are needed to enroll. During registration, you will be asked for your address, language preference and if you need any special assistance during an emergency. When registering, you have options to choose how to receive messages such as a call to your home, work or cell phone, text message, TDD transmission and/or through the mobile app CodeRed Mobile Alert. You can also have alerts sent to multiple devices and from more than one city, such as the city where you live and city where you work. Also, following City of Parma Facebook page will also keep you informed about emergency notifications, as well as news and events.
Carolyn Kovach
Carolyn Johns Kovach
Director of Communications, City of Parma, Mayor's Office
Read More on News
Volume 14, Issue 12, Posted 10:57 AM, 12.01.2022