Saving Mr. Wobbles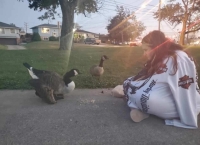 Sometime, really good things happen in the most unexpected ways. As everyone knows, Upper Ridgewood Lake is under construction and is enclosed by a high fence for safety. All the geese have left for wetter pastures except one. This one goose had apparently been hit by a car, leaving him unable to fly and unable to get out of the enclosed area; he was stranded with no food and very little water.
As a backstop to this story, a young girl named Baylee had been going through some difficult times. Her Mom coaxed her to take a walk to the lake, hoping the walk and fresh air would cheer her up. Baylee agreed to go and a miracle happened! The disabled goose and troubled girl bonded in friendship. Baylee would visit the injured goose every day.
Baylee named the cripped goose Mr. Wobbles. When she discovered Mr. Wobbles was stranded, she was extremely distraught. Baylee and her Mom contacted Donna Friedman and Nicole Perez at the Northeast Ohio Sewer District for help.Then Donna and Nicole reached out to the Lake Erie Nature Center and they formed a plan to rescue Mr. Wobbles.
On a windy, cold Saturday morning, Donna, Nicole, Baylee, her Mom, myself and a few others, gathered at the lake to try to entice the goose into a net. The attempt that day was not successful, probably due to the presence of too many people, which probably spooked Mr. Wobbles. So I left, not wanting to impede the rescue.
Shortly thereafter, I received a text from Nicole saying the rescue was successful! They would take Mr. Wobbles to the Lake Erie Science Center for quarantine prior to moving him to the Quarry Farm. Mr. Wobbles would live in a safe, goose friendly environment and Baylee would be able to continue visiting Mr. Waddles.
So as I said, sometime unexpected blessings come out of the most improbable circumstances! A little bit of happy news, in these troubled times!
Linda Kohar
Parma Councilwoman Ward 8
Read More on News
Volume 14, Issue 12, Posted 10:57 AM, 12.01.2022