Heart For The Community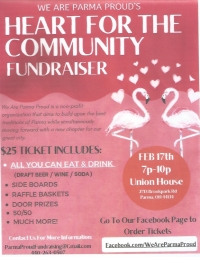 Over the past few years, the volunteers involved with the 501(c)3 non-profit, We Are Parma Proud, have worked tirelessly to advance and support the city's image. They created and published the first ever, Parma's Visitor Guide, hosted family friendly events like Picnic in the Park, and Frosty's Fest, sponsored and organized Trash Crawls, engaged the community through online photo contests and brought you the fireworks after Rib 'n Rock n 2022.
February 17, 2023, 7 to 10 PM they are holding their first ever fundraiser, Heart for the Community, at the Union House Bar and Restaurant, 2713 Brookpark Rd. Tickets are $25 per person and will include food, beer and wine. Attendees will have the chance to win numerous raffle baskets, sideboards and more.
Tickets are available in advance through Facebook.com/WeAreParmaProud, or at the door. For more information email ParmaProudFundraising@Gmail.com or call 440-263-0507.
Kathryn Mabin
Board Secretary of Parma Area Fine Arts Council, Inc, or PAFAC, and Artist/Jewlery Designer, Owner Aire of Oppulence.
Read More on News
Volume 15, Issue 2, Posted 8:15 AM, 02.01.2023