Taste Of Polish Village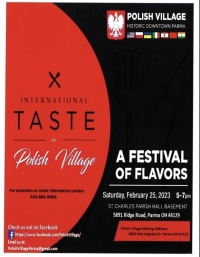 On Saturday February 25, 2023 from 5 to 7 PM Polish Village Parma, Inc., a non-profit, is holding the Taste of Polish Village. This very popular event is held at St. Charles Parish Hall Basement, located at 5891 Ridge Rd. For $20 per person you receive a sampling of the various foods the Polish Village business district has to offer and a beverage. With numerous food stations you won't go home hungry. These are from local businesses you may have driven by and not yet had the opportunity to try out. Your old favorites from along Ridge Road will be there and you may find a new favorite from the among the multiple food stations. In addition there will be raffle baskets and side boards for your entertainment. Enjoy an assortment of good food with your neighbors for a worthwhile cause to help your community thrive.
Proceeds from this event are used to fund events and projects held in the Polish Village community, such as the Polish Constitution Day Parade and After Party held in May, and the annual Treat & Greet in October, or the flowers and decorations in the pots in Polish Village, Christmas wreaths at various locations, Trash Crawls, Ward 2 Garage Sale, the maintenance of the Pocket Park on Ridge Road, and much more.
To preorder your tickets call 440-885-8093. Or email PolishVillageParma@gmail.com. Follow Polish Village on Facebook. Seating is limited so don't hesitate.
Kathryn Mabin
Board Secretary of Parma Area Fine Arts Council, Inc, or PAFAC, and Artist/Jewlery Designer, Owner Aire of Oppulence.
Read More on News
Volume 15, Issue 2, Posted 8:16 AM, 02.01.2023