PACT Youth Program In Full Swing In Parma Heights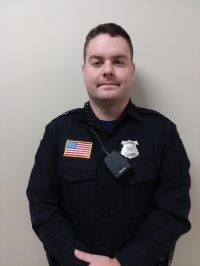 Patrolman Jack Darnell and his colleagues in the Parma Heights Police Department are hoping a new community policing program will have a long-lasting positive impact in the community. After a Police and Citizens Together (PACT) town hall meeting November 15, the PACT Youth Program Kick-off event took place December 27 at the Cassidy Theatre. The December event was a holiday party for youth, and thereafter will be followed by twice-a-month meetings designed to tackle different important community issues – things like bullying, drug and alcohol use, truancy, goal-setting and character development. One of the two monthly meetings will be a recreational activity to promote fun for youth, and the second will focus on a particular issue. Topics to be discussed with youth will be selected by a "collaboration board," made up of hand-selected community leaders, business owners, educators and police officers, Darnell said. Parma Heights Mayor Michael P. Byrne is among the members of that board.
"The goal of the program is to open the lines of communication between us (as law enforcement officers) and the young people in the community. "It's our attempt to reach out to them and establish an on-going dialogue," Darnell said. Currently, there are nine Parma Heights officers involved in the program, and they have already begun their community outreach efforts by going door-to-door, knocking on doors, and getting to know the residents in the community on a more personal level.
Officers involved in the program do so via established geographic zones in the four corners of the city. They include:
Zone 1 - Patrolman Brian Hansen
Zone 2 - Patrolman John Vinkler and Patrolman Andrew Fischer
Zone 3 - Patrolman Stephen Lindh and Patrolman Jack Darnell
Zone 4 - Patrolman Ronald Felkonis, Patrolman Jeffrey Dunnell and Patrolman Eric Taylor.

Sergeants Tanya Czack and Daniel Kravanis do not have assigned zones. They are supervisors for the PACT Unit and assist where needed.
The program will focus on students at Greenbriar Middle School and Valley Forge High School.
In two words, it's all about relationship building.
"I think the program provides police officers a chance to interact with those in the community they serve in a non-enforcement manner…to get together with people in a way that shows officers as the individuals they are. I think it humanizes it for the community," Darnell explained.
How did all this get started?
Darnell applied for – and received – a $25,000 Ohio Office of Criminal Justice Systems community policing grant, which provides funds for man-hours, events and supplies, after the grant was brought to his attention by his colleague Sergeant Czack.
"There's a handful of us that are passionate about community policing. When Sargeant Czack brought it to my attention, we thought this (grant) opportunity looked like a great way to get the ball rolling" Darnell said.
The grant runs through June 2018, and Darnell said there is an opportunity to re-submit for additional funding, "if what we attempt gets accomplished."
Darnell, who has been with the Parma Heights Police Department for six years, thinks it can be a catalyst.
"I hope the program helps change the culture of the community as a whole," he said. "We're not responding to what we feel is a hostile community, or a community that does not have a positive outlook about us."
He wants people to understand that the program at its core is an opportunity for a personalized experience with your local law enforcement officers. It allows for more consistent communication, and for officers to have a more personal impact on the people they are serving.
Darnell's father, a retired Parma Heights Police Officer, began similar efforts years ago.
"My Dad worked as a D.A.R.E. (Drug Abuse Resistance Education Program) officer. "Through that, he saw the need for some mentoring, some role modeling, and the need to do things in a different way. He took it upon himself to get to know the people in his community on their level."
Darnell said that Parma Heights officers are eager to be a part of their community through their work.
"My favorite part of the job is interacting with people," he said. "Sometimes I feel we're able to bring a sense of order and calm to an unstable situation. We're able to leave it better than we found it. I love the variety of people we deal with. I like not knowing what the next person's going to need from me, but (nonetheless) having a positive impact."
Rick Haase
Rick Haase handles Public Relations and Special Projects in the Office of Parma Heights Mayor Michael P. Byrne
Read More on Parma Heights
Volume 10, Issue 1, Posted 8:59 PM, 01.02.2018