A Message From Mayor Byrne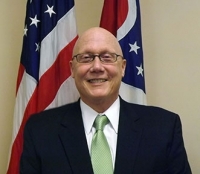 Well, we are certainly living history and maneuvering our way through this time is not always easy and often confusing. As things change on a daily and weekly basis, the City of Parma Heights strives to share information with our residents, businesses, and community in as many ways as possible and I am grateful to the Parma Observer for the opportunity to communicate here.
During this pandemic and under the stay-at-home order, we have been following protocols recommended by the CDC and State of Ohio to restrict exposure to COVID-19 and to keep our residents as safe as possible. City Hall, our Senior Center, and Cassidy Theatre have been closed to the public. During this time we have had these three facilities as well as the police and fire vehicles cleaned and sanitized.
As always, the health and safety of our residents is my highest priority. The men and women of the police and fire departments have taken necessary actions and precautions to keep Parma Heights safe. The lobby at the Parma Heights Police Department continues to remain open to the public with a phone outside the lobby door for the public to contact staff 24/7. Officers have received training on responding to calls for service where an increased risk of potential exposure may be present. Officers and/or Firefighters that respond to a residence may request to speak with people outside of their homes. In accordance with the CDC, officers have been directed to maintain acceptable social distancing as well as to wear PPE (Personal Protective Equipment). Officers will continue to contact residents by phone for non-emergency calls and for service/reports. The non-emergency phone number is 440.884.1234.
BUSINESSES RE-OPEN
As Ohio re-opens for business, we will continue to follow the recommendations of Ohio Governor Mike DeWine and his administration. We post updated information on our city website, Facebook page, and on the digital sign in front of City Hall. You can always call us if you need us at 440.884.9600.
As City Hall re-opens to the public, face masks will be required by both employees and the general public entering. Dentist and veterinary offices will re-open May 1, general offices will re-open May 4, and consumer retail and services will re-open on May 12. Until further notice, the stay-at-home order remains in place and the gatherings of ten (10) limit is still in place which means that this year we will not be having our annual Memorial Day parade. We will have a small private service in conjunction with the Parma-South Presbyterian Church and make sure it is available to the public via the internet. Please remember those who lost their lives in the defense our country and freedom, as they have earned our eternal gratitude.
On the home page of our website, there is a list of businesses that remain closed. We will continue to update the website with information but please note that the following remain closed at this time: restaurants and bars, personal appearance and beauty services, recreation and swimming pools and senior centers.
Even though the Parma Heights Senior Center is closed for daily lunch, programs and activities, our Director Trish James, her staff, and volunteers have been busy reaching out to our senior population. They have made and delivered over 200 lunches a day since the Center closed. They have worked with the Cleveland Foodbank and have also delivered boxes of non-perishable foods as well as providing uplifting messages and news. I have received dozens of messages from our seniors about how pleased they are with the services they continue to receive.
You may also be aware that the deadline to file federal, state and local taxes has been extended to July 15 though you can submit your taxes at any time. The CCA Tax office here at City Hall is not providing walk-in service at this time, however, our residents can call them for help at 440.888.6440. There is a drop box conveniently located outside City Hall (6281 Pearl Road) for taxes as well as for building permit applications.
PEARL ROAD RE-CONSTRUCTION
Construction projects and road repairs continue. In the Manorford and Parma Park neighborhoods, Columbia Gas is undertaking a line replacement project. Anyone with questions or concerns can contact Raquel Colon, External Affairs Specialist, at 419.315.8398 or Rcolon@nisource.com.
Taking a regional approach to tackling infrastructure issues, the Cities of Parma Heights, Middleburg Heights and Strongsville partnered with the Ohio Department of Transportation (ODOT) and the Northeast Ohio Areawide Coordinating Agency (NOACA) to completely resurface the Pearl Road Corridor, address failing curbs, and add additional catch basins.
Additionally, Parma Heights was awarded NOACA Transportation for Livable Communities Initiative (TLCI) monies for multimodal improvements to enhance Pearl Road that will be installed in conjunction with the resurfacing such as decorative crosswalks and wayfinding signage.
Pearl Road construction work has begun in Strongsville at the Ohio Turnpike bridge and will continue on to the Parma border at Pearl and Snow Roads. Due to the size of this project, work will be performed in two phases of construction. Phase One will address Pearl Road in a portion of Strongsville through Middleburg Heights into Parma Heights, The Parma Heights portion of this project is scheduled to commence in August, 2020 and will end at the intersection of Pearl and Stumph/York Roads. Phase Two, completing the remainder of the work through Parma Heights to the Parma border, will begin in April 2021.
As we begin to slowly resume our daily lives, it is important to keep an eye out for our neighbors who may be in need of assistance: the elderly couple living next door, the neighbor with a disability, the family who have lost their jobs. I also urge all of you to continue to follow the directives of our state leaders. By working together in our communities, we will be able to emerge from this challenging, historic time stronger than before.
Mike Byrne
Michael P. Byrne is the Mayor of Parma Heights, Ohio.
Read More on Parma Heights
Volume 12, Issue 4, Posted 12:52 PM, 05.01.2020