Parma Heights Heart Attack Survivor Says "Thank You"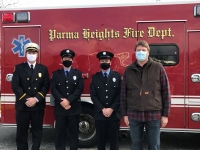 This story is related to Andrew "Andy" Novak, 51, a retired forklift driver from Parma, OH, he began experiencing shortness of breath and severe chest pain on January 20, 2018. Moments after telling his wife he may need to go to the hospital, she found him unresponsive on the couch. Andy's wife and daughter began CPR while they called 911. The Parma Heights Fire Department arrived at the home four minutes later and quickly transported him to UH Parma Medical Center.
Upon arrival in the catheterization lab, Dr. Paul Poomimpanit identified a totally occluded LAD and quickly opened the blockage and placed a stent. However, Andy was in cardiogenic shock with an ejection fraction below 10%. Dr. Poomimpanit then inserted the Impella CP heart pump to support Andy's weak heart and allow it to rest. He remained sedated and after six days of support, the Impella was weaned and explanted. Though he had a long road to recovery, including dialysis and rehabilitation, Andy has now returned to a normal quality of life. Today he appreciates every moment with his wife, two daughters, and two sons. He also enjoys tending to nearly five acres of land at his second home.
Matt Bernard
Assistant Chief of the Parma Heights Fire Department
Read More on Parma Heights
Volume 13, Issue 1, Posted 4:03 PM, 01.01.2021