Does Parma Heights Have A Secret Pizza Scene?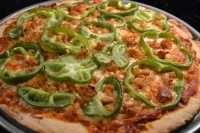 On the bubbly, cheesy surface, pizza is just dough, sauce, and toppings. How hard can it be to make, right? But for a small group of passionate pizzaiolos in Parma Heights, pizza is a constant learning experience in search of perfection. For a long while, Parma Heights' pizza scene consisted mostly of national chains, where toppings, sauces, and dough were a sad lineup of sameness. But with a sense of camaraderie and an organic exchange of ideas, a few standouts are refreshing the once-boring Parma Heights pizza landscape.
There's pan, there's stuffed, and there's the Grand Deluxe at Godmother's Pizza (6508 York Road). A blend of Provolone cheese, pepperoni, sausage, mushrooms, green peppers and onions that gives the pizza a sharp and deep flavor profile unlike any other pizza! Stefano Romanelli, a self-taught pizza maker, says, "It comes down to people's passion", and his family is really committed to making great pizza. Dedication like this puts Stefano and his family in a club I refer to as the Parma Heights Secret Pizza Scene.
Fratello's at 7021 W. 130th prides themselves in making each homemade pizza just the way you like. The simplicity of a Fratello's pizza demands the highest quality ingredients and that's where Fratello's excels. Crumbled sausage intermixed with gooey mozzarella cheese and those beautiful sweet, round peppers take their pie from good to great.
Paisano's Pizza, 6230 Stumph Rd., isn't lacking in selection or taste in the pie department. The most outrageous thing about their pizzas are how delicious they are. The three topping pizza has long chewy threads of cheese and the toppings all mingle together in a messy harmony.
Whether you fancy thin crust, deep dish, or just about everything in between, Parma Heights pizza artisans have you covered and then some. Every location has its own special qualities one should try. And this much is clear: the quality, creativity, and variety of these independent pizzerias is proof that Parma Heights' pizza scene is on an upward trajectory.
Emery Pinter
Worked in marketing research, marketing, and was a Librarian and Bookstore Manager.
Read More on Parma Heights
Volume 13, Issue 5, Posted 3:45 AM, 05.01.2021