2ND Fridays Parma Heights--Let's Go There!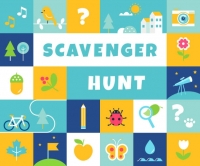 An event like 2ND Fridays is long overdue for Parma Heights and is a welcome addition to the city's entertainment offerings. Consider it a block party along Pearl road to help promote and maintain an economically vital business district that is attractive and accessible to people of all ages. After a soft opening last month, Friday September 10th highlights a Scavenger Hunt along Pearl road. One will explore Parma Heights like never before. Work by yourself or with a team to answer trivia questions and complete photo challenges. Forms will be available the day before on the Facebook page of Parma Heights 2ND Fridays. Admission: FREE Skill Level: Competitive Fun Travel Method: Walking
Search plaques, statues, and solve questions and riddles that can be found only on location, and possibly win gift certificates to local independent stores in Parma Heights. Do you have what it takes to be a scavenger hunting champion??
Emery Pinter
Worked in marketing research, marketing, and was a Librarian and Bookstore Manager.
Read More on Parma Heights
Volume 13, Issue 9, Posted 3:48 PM, 09.01.2021