Comfy All The Way With Board Games At Gamers Haven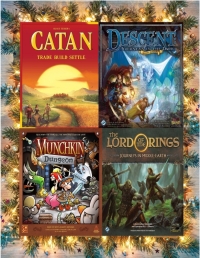 The board gaming hobby can be a little overwhelming to start, but Brandon at Gamers Haven will show you how to jump in head first. Or maybe you've wanted to join a gaming community and want an opportunity to meet even more gamers? Checking out Gamers Haven, 6639 Pearl Road in Parma Heights, might be the next best step for you! The staff is knowledgeable, beyond friendly, and all around great to talk to about board games.
Gamers Haven has a wide selection of board games, trading cards, Pokemon, miniatures, strategy games, dice, card games, Dungeons & Dragons, magazines, and accessories. Board game enthusiasts can see demos of board games and on certain nights, specific games are promoted.
Their hottest games include CATAN which was a "game changer" in the board game world. In the imaginative strategy-driven CATAN board game, you and your game night comrades must compete with each other to become the first settler to build up cities, own the longest roads, and develop the largest army on the island of Catan. GLOOMHAVEN is the fantasy adventure of your dreams. An engrossing RPG stuffed with branching storylines, miniatures, and a game world that's influenced by your decisions. It's the sort of game you can lose yourself in for months!
There's no shortage of choice when it comes to best board games at Gamers Haven. There's also games that are strictly single player, and they are good. There's also reasonably priced games for the kids: Munchkin Deluxe. Days of Wonder, and Ticket To Ride. To get the scoop on these games and others, check out gamershavenohio on Facebook, and Shop Local this Holiday season!
Emery Pinter
Worked in marketing research, marketing, and was a Librarian and Bookstore Manager. And helping to grow the small business community.
Read More on Parma Heights
Volume 13, Issue 12, Posted 7:49 AM, 12.01.2021