Valentine's Day Local Shopping Guide In Parma Heights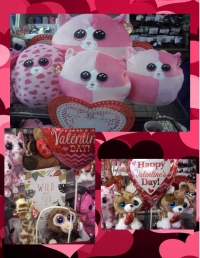 Whether you plan to celebrate Valentine's Day at home or out this year, here are just a few of the best locally owned shops to find that special gift for yourself, your friends, and that special Valentine!
If you are setting the mood, Natural Creations Soaps & More, 6597 Pearl Road, has a fantastic collection of natural scented candles that come in a variety of unique scents for all candle lovers: Merlot Wine, Midnight Romance, Vanilla Champagne, and Dr. Feel Good are the perfect gift for any occassion, especially Valentine's Day. They also have Natural soaps, essential oils, Yoni Steamer Herbs and customize gift packages. Sit back, relax, and enjoy the authentic smell of their 100% soy wax candle.
Another favorite in town is Village Cards & Gifts, 6643 Pearl Road, where one will find a fantastic collection of love and friendship cards. Shop their collection and find the perfect necklace, earrings, or Kedzie purse for your Valentine. Pamper yourself or a Valentine with many choice items in their Spa collection. Celebrate Valentine's Day with Scarlett and Tickle, the two newest Squish-A-Boos, and find great plush Valentine's gifts for kids.
Looking for something sweet other than chocolate? Samosky's Home Bakery, 6379 Pearl Road, makes the perfect Valentine's Day dessert and they have flavors the whole family will enjoy. Come in and get your Valentine a sweet treat: decadent fudge brownies, fine pastries, handmade pies, cookies or scrumptious cupcakes.
Find someone you love, or even like, and let them know with flowers. Rose Haven Florist, 6656 Pearl Road, has the stunning Valentine's Day flowers to WOW someone you love. With so many varieties, colors, shapes, and sizes to choose from the staff will help you find the perfect bouquet of flowers. Trained floral artists who listen, and everything constructed is made with attention to detail.
And turn any night into a Valentine's celebration with a range of menu options at the ClubHouse, 6365 Pearl Road. This restaurant is perfect for delectable swoon-worthy home cooked meals. Love is in the Air here, or is that the scent of chicken paprikash?
More than ever, our choices support local businesses and our community. And remember to shop and love yourself, too. You, your friends, and special Valentine are worth it.
Emery Pinter
Worked in marketing research, marketing, and was a Librarian and Bookstore Manager. Advocate for local small businesses.
Read More on Parma Heights
Volume 14, Issue 2, Posted 7:58 AM, 02.01.2022