Keeping Customers Happy With Great Service At Martini's Drive Thru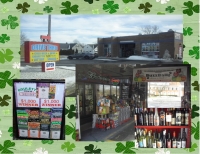 Located at the intersection of "I want a drink" and Pearl Road and Commonwealth Blvd., Martini's Drive Thru beverage store, 6505 Pearl Road, Parma Heights, may very well be the pinnacle of American convenience. This drive thru is worth a detour on your next road trip. The best part about this drive-thru? It's actually a drive-through, as in you drive inside the store, right up to the cashier. Plus in addition to selling beer and wine, they sell all your basics from chips, snacks and candy. The building used to be an old oil change store, but the owner grew it into a local establishment that is servicing the community in more ways than just selling beverages. The wants and needs of the customers are the No. 1 priority in key to being successful. Being greeted with a familiar and smiling face, and a bright, cheerful store stocked with a wide variety of craft suds, and even offer hand-selected wines by the knowledgeable owner. There are a variety of options for those who enjoy Cabernet, Chardonnay, or Merlot. And unique wines such as 19 Crimes Snoop Cali Red and 19 Crimes Cabernet Sauvignon, and commemorative Browns-themed wine bottles.
An extra bonus is that there is a limited delivery area. So when you need a couple of bottles of the good stuff, a private stock, if you will, Martini's Drive Thru is stocked with the stuff that you'll break out for special occasions: St. Patrick's Day, Father's Day, graduations. And eventually a friend of yours is going to have a birthday, a housewarming, a Summer party, or some other milestone worth marking with a bottle. It's times like these where the convenience of Martini's Drive Thru pays off so you can stock up in advance for special gatherings of family and friend. One can also order a hefty gift basket that comes with wine, snacks, and lotto tickets, and then have it delivered directly to your cherished recipient. While sprinting to the grocery store for a last minute Pinot Noir is not a deplorable idea, don't leave the convenience of your car when wanting to celebrate with your family and friends. Try Martini's Drive Thru where a relaxing atmosphere, and genuine smile will greet you every time!
Emery Pinter
Worked in marketing research, marketing, and was a Librarian and Bookstore Manager.
Read More on Parma Heights
Volume 14, Issue 3, Posted 12:52 PM, 03.01.2022