Celebrating Mother's Day Locally!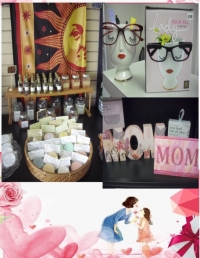 If you're celebrating Mother's Day, going local is a great way to find unique gifts while supporting the local mom and pop shops in our midst. After reaching out to many mothers to ask what they would like for Mother' Day, almost every one of them wanted one thing. They want something affordable, so you won't need to bust open your piggy bank, and something from your heart.
Show Mom some local love with thoughtful gifts from small businesses. Let her relax and open up a thoughtfully curated box of goodies from Thee Tree House, 6269 Pearl Road, which has one-of-a-kind holistic Mother's Day gifts. Rose quartz crystals would make a great gift. Shop, and be inspired by unique items you can't find anywhere else. You'll find no shortage of candles, crystals, and apothecary products. But be sure to check out the one-of-a-kind soaps and beauty gifts made with all-natural botanicals.
Natural Creations Soaps & More, 6597 Pearl Road, has soy candles, natural soaps, essential oils, and customized gift packages. Buy a great Mother's Day candle gift & show your Mom how much you treasure her. Give your Mom an excuse to light a candle, put her feet up, and enjoy a moment of pure relaxation. You should probably also pour her a glass of wine or make her a cup of tea if you know what's good for you!
Get Mom a new pair of designer eyeglasses or sunglasses for Mother's Day. 168 Optical LLC, 6315 Pearl Road, Ste#206 has some of the most stylish options you can choose from and at a very affordable price! Every mom is unique. Discover their Mother's Day sunglasses selection and give your mom a pair that reflects how special she is. And don't forget the fashion eyeglass cases with matching microfiber cleaning cloths.
Village Cards & Gifts. 6643 Pearl Road, is a go-to spot for locals to pick up cards for all occasions, including Mother's Day! Pick up a card, and shop the rest of the store to put together a Mother's Day-inspired gift with jewelry, apparel, and accessories, Kedzie products, bath and spa items to relax her, and maybe even a soft, cuddly Ty plush.
Shopping locally certainly has its perks. Not only do you save yourself from the last minute scramble to find a gift and ridiculous shipping fees, but you're also supporting Parma Heights businesses recovering from the economic downturn of the pandemic. These are my ideas of some of the best places to grab Mother's Day gifts in Parma Heights. I hope that you support one or a few of these businesses and find some great gifts for Mom. Happy Mother's Day!
Emery Pinter
Worked in marketing research, marketing, and was a Librarian and Bookstore Manager. Advocate for small businesses.
Read More on Parma Heights
Volume 14, Issue 5, Posted 3:05 AM, 05.02.2022