Share Care Home On Lakeview Drive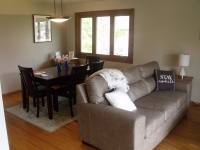 Home Instead has created a way to receive 24-hour care in a single-family home at less than half the cost of our traditional home care. We call it "Share Care" and for some clients, it's the perfect solution.With a Care Professional-to-resident ratio of 3:1 (and no more than 5:1), our residential facility is very different from a traditional "group home." Our Care Pros engage with our residents at a level no other facility in the area can match. Our care is provided by screened, bonded, trained, and specially selected Home Instead Care Pros. At least one Care Pro is in the home at all times and Care Pros never sleep in the home. Home Instead Lakeview offers a safe, quiet, and comfortable alternative to larger facilities. The Covid-19 pandemic has shown that limiting one's exposure to a small number of people is a good defense against the virus…or any virus. Home Instead Lakeview is licensed by the State of Ohio as an R-2 residential care facility and can accommodate up to 5 residents.
Here are more details:
•Our 2,000 square foot home is spacious and bright. The family room and living room provide ample
space for residents to enjoy music, games, crafts, puzzles and their favorite TV shows.
•Room & Board includes all meals, snacks, beverages, utilities, cable, phone and wireless internet.
Transportation to appointments is available as an add-on service.
•24-Hour care includes third shift, hands-on care.
•Each resident has their own bedroom, filled with their own personal belongings. We will also make
room for a resident's favorite chair in the family room, if desired
•Family and friends may visit whenever they like or may plan outside activities with their loved one.
•Our households are filled with joy, due to the personal relationships we form with our clients.
The Home Instead office that serves Parma and the surrounding area was established in 1998. Over the last two decades, we've cared for thousands of seniors who wish to remain in their own homes. Home Instead Lakeview is offered as an alternative to in-home care for our clients who desire around-the- clock, hands-on care in a nicely appointed home at an affordable cost. We also have a Share Care home on Vicksburg Drive in Parma. Please call 440 734-7441 for details.
Geoffrey Moore
Owner- Home Instead Senior Care
Read More on
Volume 14, Issue 6, Posted 8:17 AM, 06.02.2022