Never Say No To Ice Cream At Lumpy's Shake Shop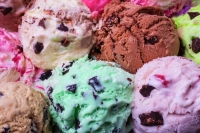 With so many uncertainties in life as of late, it's nice to know that there's always one thing you can count on to make you happy. ICE CREAM from Lumpy's Shake Shop. This store was established in 2017 in Parma Heights and has always been, and will always be committed to serving up the best ice cream in town! Looking for nostalgic flavors of bygone eras? Want something more adventurous? Or a contemporary new flavor? There's no better time to be an ice cream lover, and they've got the scoop at Lumpy's Shake Shop, 6372 Pearl Road, Parma Heights.
Any day in Parma Heights, you can choose from a rotating list of flavors including Lake Erie Salt Mine, Peanut Butter Overdose RX, and my personal favorite, Coconut Avalanche! I was never one of those kids who snuck raw cookie dough from a mixing bowl, but if you are, then Chocolate Chip Cookie Dough is the treat for you. But if it's your first time, go for the classic like Butter Pecan, which offers a creamy and rich texture and bits of pecan in every taste. Your taste buds will tingle at the mere thought of Raspberry Chip Cheesecake. Fresh, flavorful swirled raspberry with pieces of cheesecake and loaded with rich chocolaty chips. Get your ice cream to go in cups, cones, pints, or a sundae.
I asked my niece to describe Lumpy's Shake Shop in 10 words or less. She replied, "Amazing ice cream. Your mouth will thank you!" Lumpy's Shake Shop is the place to treat yourself, and when the dog days of summer arrive and the heat index reaches triple digits, a trip to the ice cream shop is tough to beat.
Emery Pinter
Worked in marketing research, marketing, and was a Librarian and Bookstore Manager. Advocate for small businesses.
Read More on Parma Heights
Volume 14, Issue 7, Posted 6:19 PM, 07.02.2022