Shop Local And Support Parma Heights Businesses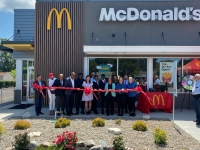 Parma Heights recently celebrated the grand reopening of McDonald's. Along with the Parma Area Chamber of Commerce and Parma Heights Police, it was a fun afternoon with the ribbon cutting and the Chief and Captain even helped serve guests at the drive-thru window. We are grateful to have businesses that give back to the community and encourage building relationships throughout our city.
In June, we hosted the Business Breakfast, in which over 30 locally owned small business owners attended. We focused on how we plan to help market the businesses in the community. Through the city's social media channels, we will promote businesses with the new Feature Friday. Facebook, Instagram and Twitter followers will discover what businesses are currently in Parma Heights and what goods and/or services they provide. From auto-detailing to frozen custard to bowling to pop culture, there are many hidden treasures and great gems in Parma Heights. Forming partnerships with our local businesses is an opportunity to showcase what we have right here in Parma Heights.
Be sure to follow the city's social channels for the new Feature Friday, along with all the great recreation programs and updates regarding happenings within Parma Heights.
Parma Heights – Community Grows Here.
Marie Gallo
Marie Gallo is the Mayor of Parma Heights
Read More on Parma Heights
Volume 14, Issue 8, Posted 8:42 AM, 08.01.2022