Tips To Attract Bees, And Butterflies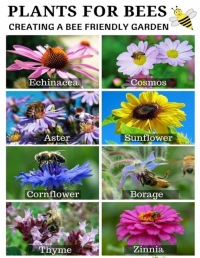 Parma Heights has created several "pocket parks" throughout the city. Instead of piles of mulch and empty benches, these spaces could feed and shelter bees, birds and butterflies. Anytime I've taken a break when walking the city, I've never seen anything with wings, anything with feathers or anything with six (or more) legs!
Bees have good color vision and especially like blue, purple, violet, white and yellow. And a little color at the pocket parks wouldn't hurt. If we planted species with brightly-coloured and/or tubular flowers, such as cardinal flower, blue iris, bee balm, bergamot, wild columbine, spotted Joe pye weed and/or annuals such as begonia, cosmos, geranium, petunia, zinnia and nasturtium, they would attract bees, butterflies, and hummingbirds.
I'm sure many of you have dealt with the frustration of seeing blossoms fall off your vegetable plants because they have not been pollinated. Not only do food crops depend on these beneficial insects, but most flowering trees and plants need pollination to set seed and continue their species' survival. Bees are important to our whole ecosystem. Further, the bee population is at risk due to overuse of pesticides so it's important to not only plant flowers that bees need the most, but to also never treat them with pesticides. No matter their size, all native bees rely on blooming plants for sugary nectar and protein-packed pollen to feed themselves and their offspring. Few creatures exist closer to the front lines of climate change than wild, native bees. And few are more important, or as irreplaceable.
They've always been subjected to a long list of existential threats: habitat loss through agriculture, construction and urban development; pesticides, insecticides and other harmful chemicals; and competition from domesticated honeybees. Add to that list the growing impacts of a warming planet, wildfires, heat waves and drought all of which are growing in frequency and intensity, and the gravity of the situation lurches into focus.
Is a small wildflower meadow on a small plot of land nestled in the corner of a 'pocket park' too much to ask? Parma Heights and other cities need these small havens for pollinators in an otherwise concrete jungle. Right now, it's mid season and flowers such as black-eyed Susan, coneflowers, catmint, cleome, milkweed, monarda (bee balm), phlox, daisies, coreopsis, and yarrow are bee magnets. Bees are active until the weather cools down in late fall and still need to feed. Grow some late bloomers like dahlias, asters, goldenrod, Joe Pye weed, and rudbeckias to keep the pollinator garden going and growing! By planting a pollinator garden in your own backyard, you can help to do your part in restoring populations of these important species. By planting native pollinator-friendly plants, you help to feed and restore habitat for these creatures that we rely on for our own survival.
Emery Pinter
Worked in marketing research, marketing, and was a Librarian and Bookstore Manager. Advocate for small businesses. Member of the Dig, Plant, and Grow Garden Club
Read More on Parma Heights
Volume 14, Issue 8, Posted 8:42 AM, 08.01.2022