Two Generations At Home Days In Seven Hills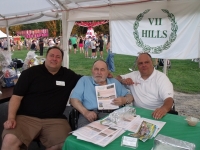 The Seven Hills Home Days is indeed a wonderful community summer event, one that I look forward to each year. Seeing Mayor Tony Biasiotta there along with his brother Guy Biasiotta and meeting their Father for the first time was a distinct pleasure. Mayor Biasiotta is fortunate to have his father with him to see his son's accomplishments, and he is undoubtedly proud of the job he has done so far running Seven Hills. Hats off to you Biasiotta Family.
Daniel P. McCarthy
I am the publisher of the Parma Observer. Lifetime resident of Parma for over 50 years.
Read More on
Volume 14, Issue 8, Posted 8:43 AM, 08.01.2022