UH Parma Child Care Center Holds Reunion To Celebrate Turning 40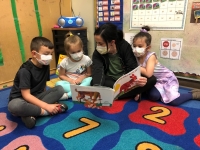 The award-winning Child Care Center at University Hospitals Parma Health Education Center was the first school for thousands of children over the past four decades. As the Center turns 40, the teachers – many with decades of service themselves – are welcoming back students and their families for a reunion to revisit their classrooms and see the people with whom they spent their formative years.
The Child Care Reunion, complete with games, refreshments and tours of the classrooms, the Apple Room and other highlights, will take place Saturday, Aug. 27 from 10 a.m. – 12 p.m. Children will even have the opportunity to check out a fire truck and ambulance, which are not uncommon sights at the Health Education Center, where the UH EMS Training program is based.
"Over the past 40 years, UH Parma's Child Care Center has supported thousands of families through the care and education of their children," says Manager Leah Anastasakis, M.Ed., who enrolled her own daughter 12 years ago, five years before managing the Center. "This was especially important these past few years during the pandemic so that UH staff and other essential workers could continue to report to work knowing their children were safe with us. UH Parma Child Care is a staple in this town and will continue to be for many years to come."
Opened in 1982 for infants and toddlers of hospital employees, the Center soon expanded to offer care for preschoolers and pre-Kindergarteners. School-age children up to age 12 are welcomed back during school breaks. In 2007, the Center that was originally available only to hospital employees opened to the public.
The Center earned Five Stars in Step Up to Quality, the state's highest-possible rating in the quality-ranking program of the Ohio Department of Education and the Ohio Department of Job and Family Services. The long tenure of teachers, five of whom will be honored at the reunion, speak to the quality of this program:
Jennifer Garczynski, Infant Lead Teacher, 32 years
Debbie O'Connell, Infant Teacher's Assistant, 32 years
Maria Armeni, Preschool Lead Teacher, 31 years
Maria Karlak, Pre-K Lead Teacher, 21 years
Waydene Farrell, Toddler Teacher's Assistant, 15 year
To RSVP for the reunion, please email UHChildCare@Uhhospitals.org.
CJ Sheppard
Senior Communications Strategist, University Hospitals Parma Medical Center
Read More on
Volume 14, Issue 8, Posted 8:42 AM, 08.01.2022