Lights, Camera- Parma!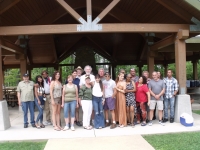 On August 7 members of the Screen Actors Guild held a picnic at the pavilion in Westcreek Conservancy in Parma. Board member Andy Schofield, former Parma Ward 9 Councilman, and fellow board member Mike Kraft were in attendance, as well as Secretary Joe Gunderman. 39 people in all were there, enjoying food from Stancato's Restaurant on a beautiful sunny day in Parma. The SAG-AFTRA Family Picnic is an annual event, and the union encompasses actors, stunt people, broadcasters, dancers and singers. Everyone seemed to be enjoying themselves, taling over activities in their business and reminiscing about the great times they've had. They couldn't have picked a finer place for their gathering than this pavilion in our wondrful local resource that is Westcreek Reservation.
Daniel P. McCarthy
I am the publisher of the Parma Observer. Lifetime resident of Parma for over 50 years.
Read More on
Volume 14, Issue 9, Posted 9:41 AM, 09.01.2022