Parma Heights Police Department Welcomes K-9 Officer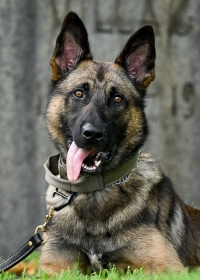 For the first time in Parma Heights Police Department history, we welcome a new K-9 officer. Thanks to the A. Ripepi Funeral Home and a private family donor, we're excited to add K-9 officer Gunny Bennett on the team. Gunny is a multipurpose German shepherd/Belgian Malinois and is named in honor of the family's father who helped donate the money, who was a gunnery sergeant in the military. Gunny's middle name, Bennett, is to honor fallen Parma Heights Police Officer Sergeant Robert Bennett, who lost his life during a bank robbery in October 1972.
Gunny is one of nine K-9's that recently graduated from a six-week training program with Excel K-9 Services in Hiram, Ohio. Police Officer Bradd Smith will be Gunny's handler. In preparation to adding a K-9 officer, we had to retrofit Officer Smith's vehicle to include a cage for Gunny. With Officers Smith and Gunny on patrol, they will assist with search and rescue, along with narcotics and evidence collection.
We're grateful for the grant from A. Ripepi & Sons Funeral Homes to help cover costs and bringing a K-9 Officer to Parma Heights. Officer Smith and Gunny have been patrolling and creating a great bond. Thanks to David Sands Photography for the photo of Gunny. Be sure to follow Gunny's continued success on Facebook.
https://www.facebook.com/CityofParmaHeights/
https://www.facebook.com/parmaheights.police
Parma Heights – Community Grows Here.
Marie Gallo
Marie Gallo is the Mayor of Parma Heights
Read More on
Volume 14, Issue 9, Posted 9:41 AM, 09.01.2022