12th Annual Parma Peanut Butter Drive Begins December 1st!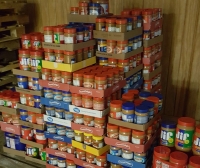 The 12th Annual Parma Peanut Butter Drive will kick off on December 1st and run through the entire month of December. The Parma Peanut Butter Drive has been going strong since its start in 2010, when founder Sean Brennan, Parma City Council President, had the idea to collect peanut butter to help the community. It is estimated that in 11 years, the drive has generated over 10 tons of peanut butter through monetary donations and jars of peanut butter, thanks to the generosity of the community.
Why a peanut butter drive? Peanut butter is a well-liked, high protein, calorie dense food. It is a staple in many households, including Brennan's household growing up with a single mom who worked hard to make ends meet. "Peanut butter is the primary source of protein for those of little financial means," Brennan said. "In recent years, the price of peanut butter has skyrocketed, making it out of reach for those who need it most."
All Faiths, a local award-winning non-profit, is honored to be a part of the Parma Peanut Butter drive. Executive Director Felicia Martinez says "we are so grateful for this annual drive, which helps us provide nutritious groceries to older adults in our community." For 16 years All Faiths Pantry have delivered groceries directly to the homes of qualifying seniors in Parma and surrounding communities. "As an agency of the food bank we can purchase peanut butter far less than retail cost, a dozen jars costs about $20." Says Martinez, "therefore, a monetary donation will go much further to support those in need and a donation in any amount is very much appreciated."
This year's drive is supported by community partners Lamar Advertising, Rumpke Waste & Recycling, UH Parma Medical Center, Parma Libraries and the Parma Area Chamber of Commerce. Jars of peanut butter can also be dropped off at Parma City Hall, Parma libraries, and UH Parma Medical Center.
To learn more or to donate online visit www.allfaithspantry.org. Donations made by checks can be mailed to All Faiths Pantry, P.O. Box 34239, Parma, Ohio, 44129 (place Parma Peanut Butter Drive in the message). For questions about the drive email Brennan at councilmanbrennan@msn.com or call 440-885-8091.
The drive will once again run from December 1 through December 31.
Felicia Martinez
Felicia Martinez is entering her 5th year as Executive Director of All Faiths Pantry, a local non profit which provides nutritious groceries at no cost to low income seniors and others with limited mobility in Parma and surrounding communities.
Read More on
Volume 14, Issue 12, Posted 10:57 AM, 12.01.2022