Shop Small For Christmas Parma Heights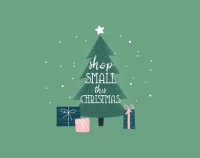 The Christmas lights are strung up (they're still in a tangle, actually), the stockings are hung (nope), and the presents are all wrapped and under the tree. YES, I've completed my holiday shopping list, and I deserve a few Christmas cookies and a beer. Lucky for everyone, local Parma Heights shops are eager to help you find the perfect gift. If you're trying to do the same and shop locally this holiday season, I've rounded up 8 of my favorite Parma Heights gift shops and locally owned businesses with gifts for everyone on your list!
Seconds City Home Furnishings, 6530 Pearl Road. Expect the unexpected treasures. Goods for you and your homestead. You'll find a selection of unique home finds and more.
Natural Creations Soaps & More. This local shop features some of the best candles, and soaps. Seasonal candles such as Christmas Tree and Aspen Winter. Unique scents such as Merlot Wine, Strawberry Daiquiri, and Vanilla Champagne. Perfect for finding stocking stuffers, and a few enchanting items to treat yourself with. Visit their Facebook page or find them at 6597 Pearl Road.
Gamers Haven is one of the largest board game stores in N.E. Ohio, and it's right here in Parma Heights at 6639 Pearl road. In addition to the latest releases, it has the bestsellers such as Moonstone, Conquest (a miniature game), and the Quacks of Quidliberg. And the store boasts a playful interior where one can spend hours playing their favorite board game!
Samosky's Home Bakery, 6379 Pearl Road, is the go-to holiday cookies bakery. Along with cakes, pies, and pastries, the bakery boasts a variety of Christmas cookies filled with colorful confetti, and happy surprises. You can feel the love in each beautifully decorated cookie!
Village Cards & Gifts, 6643 Pearl Road, offers greeting cards, beautiful boxed Christmas cards, stationery, seasonal gifts, Ty Plush, religious & Inspirational cards, gloves, Kedzie products and so much more! It's packed with fantastic Christmas gifts, and seasonal home decor accessories.
Load up your friends and family into the van or car, and experience the holiday season through Martini's Drive-Thru beverage. Whether your Christmas party calls for ugly sweaters (face it, it probably does) or just a night out, you should have some beer to suit the season. And for those who can try all the Christmas beers, Martini's Drive-Thru beverage is the place for you!
168 Optical, 6315 Pearl Road, has Christmas novelty eyeglass cases suited for reading glasses and computer glasses. A Christmas Story, Merry Clarkmas from "Christmas Vacation" and Elf. All in decorative fabric and solid cases that prevents glasses from breaking, while the soft interior prevents lenses from getting scratched. The perfect stocking stuffer that is thoughtful and useful!
Or make someone's day or night with a gift card to a local restaurant. The ClubHouse, 6365 Pearl, would be the perfect spot for whoever on your list is in need of a night out. They have the best Hungarian goulash, a traditional dish that is as authentic as if you had across the Atlantic.
We have so many incredible small businesses, and entrepreneurs here in Parma Heights. It is so important for us as consumers to support them, especially during the holidays. There's no shortage of reasons to shop local as we head into the holidays. The dollars we spend with Parma Heights based businesses stay in our community via local sales taxes, employee paychecks and more. This Christmas support a local small business and make it an extra merry experience.
Emery Pinter
Worked in marketing research, marketing, and was a Librarian and Bookstore Manager. Advocate for small businesses. Member of the Dig, Plant, and Grow Garden Club
Read More on Parma Heights
Volume 14, Issue 12, Posted 10:57 AM, 12.01.2022