Veterans Day At Broadview Multi-Care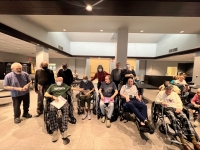 As always, Broadview Multi-Care Center at 5200 Broadview Rd. in Parma spent Veterans Day on November honoring US Military Veterans at their facility and making them feel appreciated for their service to our country. People from all branches of our military have been included among those treated here for many decades, and every year they are recognized by everyone for filling their roles in serving our military needs around the globe.
Daniel P. McCarthy
I am the publisher of the Parma Observer. Lifetime resident of Parma for over 50 years.
Read More on
Volume 14, Issue 12, Posted 10:57 AM, 12.01.2022