Hit Your New Year Stride With Zumba And Cardio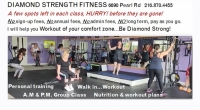 So you want to be healthier in the New Year. Why go it solo when you can have company along the way? Diamond Strength Fitness is teaming up with Charlotte Braun Dance Studio's Patty Nowak in a dual class for women. 30 minutes of Core Strength with Michelle downstairs and 30 minutes of Zumba with Patty upstairs. If you promised yourself 2023 was the year you'd start working out, you don't have to make your fitness journey alone.
Anyone who's ever started a new fitness program knows that getting started isn't the problem. So what is? Keeping your momentum going when the initial thrill wears off. Because of their diversity, group fitness classes are a great way to keep your energy and enthusiasm up. You'll do more than just show up when you work out with others; you'll perform better, too. This unique fitness class offers a structure that working out alone does not. The more structure your workout routine has, the more likely it is to become a habit. You're also more likely to work out longer if you're in a formal group class than if you're exercising alone. If your goals for 2023 involve leading a healthier, happier life, then participating in this class can offer the perfect opportunity to make friends with like-minded individuals. You'll look forward to connecting with your new friends every day, which transforms a trip to the gym from something to dread to something to delight in.
30 minutes of Core Strength training. Cardio workouts AND strength training. Yes, that's right. A woman needs both. These cardio exercises were selected by Michelle for their effectiveness and efficiency.
30 minutes of Zumba is a fitness program that combines Latin and international music with dance moves. It is a combination of dance and aerobic movements to energetic music. Like every workout session, a Zumba session will leave you feeling elated and satisfied. It is the perfect stress buster.
This New Year, try something new and try something fun.This New Year, give these 30 minute classes a shot! The best reason to try these fitness classes is that they're fun! For more information contact Michelle at 216-870-4383. It's all happening at 6690 Pearl Road in Parma Heights! HAPPY NEW YEAR!
Emery Pinter
Worked in marketing research, marketing, and was a Librarian and Bookstore Manager. Advocate for small businesses. Member of the Dig, Plant, and Grow Garden Club
Read More on Parma Heights
Volume 15, Issue 1, Posted 6:11 PM, 01.01.2023