Favorite Valentine's Day Gifts From Parma Heights Small Businesses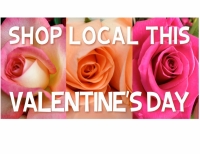 Valentine's Day is tricky to shop for, but you want to mark the occasion with something special. While telling your significant other, best friend, or family member how much you love them is what matters the most, giving a small gift is always appreciated. Rather than shopping from big-box retailers, try buying your gift from a small business. Not only will it make your gift feel a bit more special and unique, by supporting smaller, local stores, you'll spread the love in more ways than one!
Looking for a Valentine's Day gift for your book loving beloved? Check out Good Friends Thrift, 6369 Pearl Road. There are books to put you in the mood for romance (or seeking a story of heartbreak that will trigger a good cry)
Then walk next door to Samosky's Home Bakery where they plan to spread the love this Valentine's Day with themed products. Valentine's Day Cookies, Valentine's Day Cupcakes or order your own Be Mine Pink/Red Valentine's Cake. If sparkly diamonds aren't happening, then sparkly cookies and cupcakes will have to do.
Whether you're making a romantic escape or considering a fancy dinner date, you still need an appropriate gift. Thee Tree House, 6269 Pearl Road, has the holistic and aesthetic items to make your Valentine experiences, blissful and memorable. Let them help you pick out the perfect gift for you and your sweetie: essential oils, candles, incense, organic tea, body care products, spiritual gifts, soaps, dreamcatchers, crystals, or a gift certificate!
To help you find something special that won't break the bank, visit Village Cards & Gifts, 6643 Pearl Road. Linda has gifts under $25, $15, and $10 for all types of Valentines, from traditional tokens of affection like stuffed animals and a great selection of Valentine cards to puzzles, spa/beauty products, and clothing. For a gift that's romantic and memorable, jewelry is the way to go. Jewelry is the best Valentine's Day gift a girl could receive. Flowers will wilt, chocolate is devoured in a matter of minutes, but jewelry will last her a lifetime. Earrings, bracelets, charms. For something chic, and simple, jewelry shows how much you care about her and her jewelry collection.
Be creative and find ways to spread non-intimate sentiments of love to those who simply need someone to care. 168 Optical at 6315 #206 Pearl Rd has unique face planters that also function as an eyeglasses holder. Bring the whimsical face planter to life. Use any variety of plant to personalize it as a hairstyle, keep or remove the glasses, and watch its personality grow! An excellent Valentine's gift for friends and family, teachers, or for yourself.
Lastly, may I suggest you also celebrate the love you have for yourself. There's little reason not to think of the day as an excuse to buy something nice for yourself. However you choose to celebrate, I wish you and yours a Happy Valentine's Day!
Emery Pinter
Worked in marketing research, marketing, and was a Librarian and Bookstore Manager. Advocate for small businesses. Member of the Dig, Plant, and Grow Garden Club
Read More on Parma Heights
Volume 15, Issue 2, Posted 8:15 AM, 02.01.2023