US Congressman Max Miller Opens Office In Parma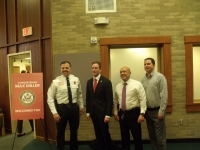 Newly elected US Congressman for the 7th District Max Miller has opened a District Office in Parma at 7335 Ridge Rd. This same location housed a district office for former Congressman Jim Renacci. Congressman Miller held an open house event in January where people from the new district came to meet him. The newly created 7th District is quite large, running from south of Wooster all of the way north to Westlake and Bay Village, heading southeast to include Parma and areas as far east as Bedford. I am glad that Parma was chosen as the location for a District Office, the other being Medina. The previous congressman opted to not locate an office in Parma, so this gives people in our city direct access to their congressional representative, which only makes sense for the 7th largest city in the State of Ohio.
Daniel P. McCarthy
I am the publisher of the Parma Observer. Lifetime resident of Parma for over 50 years.
Read More on
Volume 15, Issue 2, Posted 8:16 AM, 02.01.2023