Winterfest- A New Tradition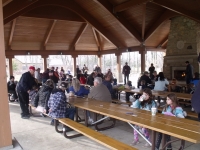 On December 30, Ward 6 Councilman Kevin Kussmaul and Ward 9 Councilman Robert Euerle began a new tradition when they hosted the first Winterfest at the Keystone Pavillion in the Metroparks Westcreek Reservation. Luckily for them and all of those in attendance, the weather was exceptionally mild for that time of year. There were many people who took advantage of the climate conditions to come out and really enjoy themselves in this beautiful outdoor setting. There was a wonderful fire in the grand fireplace, hot chocolate, s'mores and other delicacies, crafts for the children to keep busy, and plenty of good times and holiday cheer. Celebrating the end of another year among friends is a whole lot of fun, and since Clevelanders are such a hearty bunch, it didn't really matter much at all what the weather was doing, as long as citizens were enjoying themselves and the company of their friends and neighbors. Three cheers for our two young councilmen and their willingness to engage their constituents and try new things.
Daniel P. McCarthy
I am the publisher of the Parma Observer. Lifetime resident of Parma for over 50 years.
Read More on
Volume 15, Issue 2, Posted 8:16 AM, 02.01.2023