Join YPoP For Pens & Pints: A Literary Social Event! (Literacy Not Required)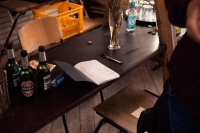 Tomorrow night at 6 PM, join us at the restaurant Game On in Parma Heights, where people will meet, drink, and if they feel loose enough, write! The goal, besides to enjoy a pleasant evening socializing, is to encourage people to hear others share stories of their own.
Attendees will pull a Parma-related topic out of a basket and have the opportunity to either tell a story related to the prompt, or to write a poem about it. The group will then vote on the best poem or story of the night, and winners in each category will receive gift card prizes.
Pens and paper will be provided, and Young Professionals of Parma will offer appetizers. This event is free to the public, and you may RSVP by signing up for the event via Facebook. An RSVP isn't mandatory, but it helps the event planners prepare catering and party supplies. Join us tomorrow, Wednesday February 15th at 6 PM in Game On, located at 6425 Pearl Road.
Jeremy Jusek
Jeremy is the city of Parma's inaugural poet laureate and is the author of three books. He founded the Flamingo Writers Guild, a literature group aimed at connecting and promoting Parma area writers. He is the founder and host of Poetry Spotlight, the Ohio Poetry Association's podcast, as well as the West Side Poetry Workshop. He is also the philanthropy chair for the local nonprofit Young Professionals of Parma. To learn more, please visit jeremyjusek.com.
Read More on Parma Heights
Volume 15, Issue 3, Posted 9:49 AM, 02.14.2023