Eat, Drink, Shop And Be Irish On 2ND Friday Parma Heights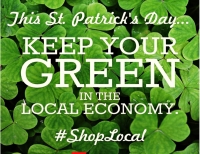 Top o' the mornin' to ya!! Let's shamrock and roll! If the luck of the Irish is on your side, your family will get the chance to experience some of the great small businesses all day on Friday March 10 as 2ND Friday Parma Heights kicks off Eat, Drink, Shop & Be Irish! This family-friendly event gives adults and kids a fun way to celebrate the patron saint of Ireland, along with shamrocks and all things green. Get your green on and get ready to shake your shamrocks at local Parma Heights businesses.
So, bring your walking shoes, dust off your green stockings, wear green, and get ready for a day packed with shenanigans. You are small businesses lucky charm, and for every dollar you spend at an independent local business, more of that money stays in your community than if you spent that buck with a national business.
Turn on your Irish pride and head out to the small businesses for a shamrockin' good time. Enjoy Irish beer, food, live music at local bars, and even leprechaun appearances with gift certificates and more! Where's your pot of gold at the end of the rainbow? It's all along Pearl Road in Parma Heights. Wherever you go and whatever you do, may the luck of the Irish be there with you!
Emery Pinter
Worked in marketing research, marketing, and was a Librarian and Bookstore Manager. Advocate for small businesses. Member of the Dig, Plant, and Grow Garden Club
Read More on Parma Heights
Volume 15, Issue 3, Posted 7:58 AM, 03.01.2023