Don't Call That Trapper Just Yet!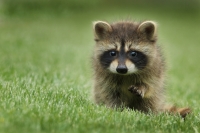 There's no reason certain entities or special interest groups should have life-and-death power over Ohio wildlife.
Ohio Division of Wildlife (ODOW) explicitly states they do not "own" wild animals. In reality, ODOW uses the loophole of "management," endowing them with pseudo power. This violates the Public Trust Doctrine, which states every person is an equal stakeholder in wildlife, and absolves individual citizens from taking responsibility for the demise of many millions of wild animals.
On March 17, when an animal control officer who covers the 44131 refused my request to take an injured or sick raccoon (did not have rabies) to an experienced rehabber, she violated the Doctrine, my right to equal decision-making, and the animal's right to live.
Not long ago, ODOW revoked individual rehabbers' licenses, particularly those who took in "nuisance" animals (propaganda used to devalue sentient beings' lives), such as raccoons, skunks, etc.
But there has not been a case of human-contracted rabies for OVER FIFTY YEARS in Ohio. There's no chronic wasting disease, no starving deer in wild populations, and no human-acquired (aka zoonotic) diseases to fear. Indeed, if you're afraid of diseases from animals, stop eating meat. At this writing, national news outlets are reporting Covid 19 was caused by the live slaughter of animals in tightly confined, filthy wet markets in China. There are wet markets here, too.
Meanwhile, fear-mongering, profit-driven ODOW indiscriminately doles out permits to commercial trappers known to electrocute, drown, gas and by other inhumane means kill animals after removal from your property.
Since the Doctrine makes clear all citizens are equal stakeholders let's invoke it.
Our right to rescue wild animals and work with compassionate, experienced rehabbers is not only tantamount to ODOW's rights, it supersedes it! Even if an animal has distemper, he can recover with proper meds and care, and may later be released.
Our right to speak out against trapping and hunting, even as it's taking place, is protected by the Doctrine and the First Amendment.
Incidentally, some believe hunting is the deer population solution, until they realize ODOW, formed in 1948, then quickly reintroduced white-tailed deer by 1950 expressly to satisfy hunters and establish a source of funding. It still operates that way. Now, ODOW uses deers' own biology to tamper with reproductive rates to keep populations rebounding and high. And these communities whose voters bought into the bow hunting handed it to ODOW on a silver platter.
At one time in Ohio, individual rehabbers took in all manner of injured, legitimately orphaned, and sick animals. They were trusted guardians of our galaxy. Few remain, operating "underground," by word of mouth. Even sanctioned rehabbers like Lake Erie Nature and Science Center are not permitted to rehab "nuisance" species.
It's up to each individual to protect each individual animal, and to stop cherry-picking which species deserve protection. They all do.
But knowing that the Gestapo, er, ODOW law enforcement has turned up at rehabbers' homes, weapons drawn, to demand animals be surrendered, makes things scary. It's truly a war against wildlife, with animals dying, and humans being criminalized.
Interestingly, that same animal control officer who killed the raccoon refused – after 12 calls to the police and direct attempts to engage her – to enforce a Seven Hills dog ordinance that requires canine pets not be permitted to run at-large.
But she sure came fast to kill that raccoon.
Those apathetic, cowardly bystanders who prefer to rely on others like animal control officers and trappers to make life-and-death decisions are equally culpable.
And those who think it silly to cry over a raccoon are in the minority. This year's Oscars saw one film which, in part, spotlighted a man and the lengths he would go to for a beloved raccoon, take the most awards. Another blockbuster film that has been around for a while features a superhero raccoon who guards the galaxy.
That means if you don't care about raccoons, you're not cool.
But there may be hope, if you follow these simple guidelines.
First, if there are raccoons or other wildlife in your house, wait until the breeding season ends. They'll leave anyway. Once you're sure they've all exited, close off entrances with a simple DIY, and cap that chimney on the spot, before they climb back in.
Second, if you must call a trapper, though state law requires they kill animals captured on private property, know that you are permitted under that same law to release them back onto your own property. Demand it! Get in writing that they remove every last animal from whatever cavity they're found in, and let them go on site, before the trapper leaves! When you first call, ask for a chimney cap if yours is nonexistent, or compromised. Insist they seal off entrances, once you are satisfied all animals have been removed. Commercial trappers are notorious for leaving some behind. Mothers will return and rip off roof shingles to get back in!
Third, contact state legislators and ask them to sponsor a new bill that protects all wildlife in honor of the Public Trust Doctrine. Ask them to reinstate licenses for legitimate rehabbers.
Along these lines, a movement is mounting across Ohio to encourage state legislators to sponsor a bill that would allow trained individuals to use the humane, remote dart method to administer a 90 percent effective chemical birth control agent on deer. Ask for that, too.
Lucy McKernan
Animals first
Read More on Opinion
Volume 15, Issue 4, Posted 12:13 PM, 04.01.2023