Hometown Heroes. We Need Our Heroes !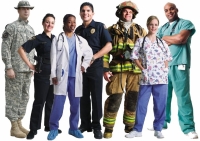 The word hero comes from the Greek ἥρως (hērōs), "hero" (literally "protector" or "defender"), The definition of a hero has changed throughout time. Merriam Webster dictionary currently defines a hero as "a person who is admired for great or brave acts or fine qualities." Wikipedia defines hero, as one who displays courage and self-sacrifice for the greater good.
To be recognized as a Hero doesn't necessarily mean you have performed a specific act of heroism. I believe the following definition is the one all-encompassing of the true Hero. "A person noted for courageous acts or nobility of character ...a person who, in the opinion of others, has special achievements, abilities, or personal qualities and is regarded as a role model or ideal. A person who without regard for personal safety performs an act to save the life or protect from injury another person or being."
Our military and first responders are regularly cast in the limelight as heroes, but others, on occasion, such as teachers, doctors, nurses and EMT's can fall into the category as heroes. One of my pet peeves is when a newsperson interviewing a person who has performed a heroic act refers to him or her as a "Hero" and the person responds… "I am not a hero, I was just doing my job, anyone would have done the same." Yeah right! Like anyone would crawl through a burning building to find a trapped person, or anyone would enter a darkened building to face a gunman who has just shot multiple people. Sorry but although modesty and being humble may be positive traits, it doesn't work here.
Our kids today need real live heroes to look up to, why do you think the Marvel Movies with superman, batman, Spiderman wonder woman etc. are among the top grossing box office hits today. Even the older generation finds admiration in reading a news item about a act of heroism. Kids today have all the wrong influencers; they are constantly exposed to violence and crime, and many will fantasize about Spiderman or superman swooping in to capture the bad guys.
They don't have to be movie or comic book Heroes to inspire our kids today, we have real hometown heroes performing acts of heroism everyday right in our own town. So, a plea to our first responders and military, when you are recognized as a hero, you don't have to agree and say yes you are, you can remain modest and humble by just saying thank you. Don't pass it off as just another day on the job, the kids and everyone needs Our Heroes.
If you have a real life story of someone performing a act of heroism, I would appreciate knowing about it so we can consider giving that person credit in one of our Hometown Heroes articles.
Tony Kessler
Administrator - "Parma Area Senior Veterans"
Executive committee member of "We Are Parma Proud"
Past Commander of American Legion Post 572
Read More on Opinion
Volume 15, Issue 4, Posted 12:13 PM, 04.01.2023