Shopping Local For Your Easter Basket!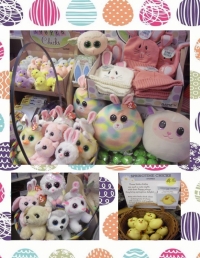 Who else is egg-cited for Easter? If the young ones in your life are looking forward to the upcoming arrival of a special basket from the Easter bunny, you may be starting to wonder what you can purchase that goes beyond the traditional choices of jellybeans and chocolate rabbits. It's officially time for Easter shopping, let's hop to it!
For the softest stuffed animals, 2 inch cute hatching Chick Figurines, Easter Gnomes, and soft cotton-tailed bunnies and fuzzy baby chicks that steal the limelight, transform your home into an Easter wonderland with Easter decorations, Easter gifts and decorative eggs. Home to all things giftable, think cards, jewelry, Easter decor. It's all at Village Cards & Gifts, 6643 Pearl Rd, Parma Heights.
Games make great gifts and Gamers Haven has fun ones for those of all ages, as well as an entire section of small games perfect for those Easter baskets! Come visit the storfront at 6639 Pearl Rd, Parma Heights.
Need expertly decorated cupcakes to take your Easter celebrations to the next level? Samosky's Bakery, 6379 Pearl Rd, is where it's at. Their cupcakes have tons of bright, spring themed sweets to help you have the best Easter yet. And you can always count on Lydia's Hungarian Strudel Shop, 6230 Stumph Rd, Parma Heights, to have some perfectly delicious savory strudel packed with startling flavor.
Whichever route you choose to take for your Easter Basket this year, there are plenty of stellar local options to choose from!! Wishing everyone the hope and beauty of springtime and the promise of brighter days.
Emery Pinter
Worked in marketing research, marketing, and was a Librarian and Bookstore Manager. Advocate for small businesses. Member of the Dig, Plant, and Grow Garden Club and 2ND Fridays Parma Heights
Read More on Parma Heights
Volume 15, Issue 4, Posted 12:13 PM, 04.01.2023