State Representative Brennan Sets Office Hours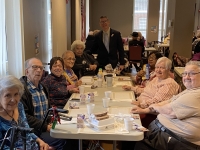 District 14 State Representative Sean Patrick Brennan (Parma, Parma Heights, and Cleveland) has announced his in-district open office hours for the month of April. He will be available on Tuesday, April 4 from 6:00 pm – 7:30 pm at P.J. McIntyre's Irish Pub (17119 Lorain Avenue, Cleveland), Wednesday, April 5 from 8:00 am – 9:30 am at Starbuck's (6780 Ridge Road, Parma), and Monday, April 17 from 11:30 am – 1:00 pm at the Parma Heights Library (6206 Pearl Road – meeting room A).
"As I public servant I want to be accessible to my constituents. Knowing what is on people's minds helps me represent them better at the Statehouse. I hope folks will join me for my open office hours," Brennan said.
There is no RSVP required. Please contact Representative Brennan's office at 614-466-3485 or Rep14@OhioHouse.gov, if you would prefer a private meeting or if you require immediate assistance with a state issue.

Sean Patrick Brennan
Sean Patrick Brennan
Read More on News
Volume 15, Issue 4, Posted 12:13 PM, 04.01.2023